Writings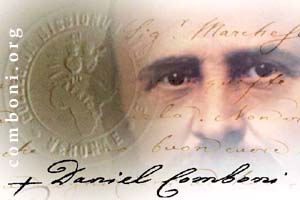 In this section are found all the Writings of Comboni that we have: of 842 we present the full text, while for the other 358 there will be a simple mention, since they are only signatures, brief notes, list of names, statistics, administration notes or copies of other documents. Explanations:
- Small modifications have been made on the text regarding spelling or some expressions that today would be of difficult understanding; the last ones will be signalled by an asterisk.
- Each document is marked by a progressive number, in brackets you find the number which corresponds to the one of the same document in the work: "SCRITTI", 10 voll., Rome 1983-1988.
- Other specifications regard the addressee, the title and the place in Archive.
- The letters are copied as in the original: date - name of addressee, etc.; or: name of addressee - date, etc.
- The square brackets [ ] show parts which are not readable or that are missing in the original text.
Ricerca avanzata - Clicca qui per affinare la ricerca