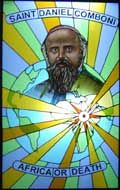 Here, at last, is the moment we have so longed for, you and I, brothers and sisters in Christ, in which we are going to be able to achieve what has long been our heart's desire. I thank you for the patience and for the selflessness with which you have endured so many privations, discomforts and so much poverty. All this is a guarantee of how much I can count on your co-operation in the great and arduous enterprise the Church has deigned to entrust to me.
(Cairo Vecchio, 26 January 1873; W 3125)
These words of Comboni on the day of his leaving for Khartoum as pro-Vicar, signed the start of the Comboni mission. With these words in the heart, we wish the whole Comboni family a joyous Feast and abundant blessings for the Comboni mission today.
Fraternamente,
P. Teresino Serra mccj – General Superior and Council