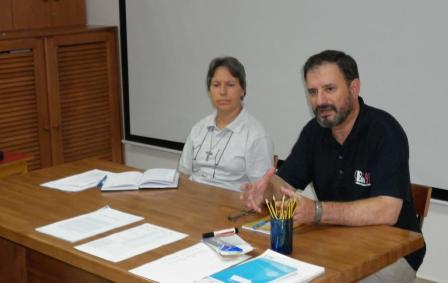 Mother General Premoli Luzia (Superior General of the CMS) and P. Enrique Sánchez (Superior General of the MCCJ)


APPEAL FOR AFRICA
Fifth Meeting of the Comboni missionaries' Bishops - Jerusalem, 31.07.2011


With Africa in the heart
On the occasion of our meeting in Jerusalem we the Comboni Missionaries' Bishops coming from Latin America (3) and Africa (9), the Father and the Mother General of the two Comboni Institutes, feel a strong need to launch an appeal in favour of Africa.
Africa, despite its potentials and the vastness of its natural resources, is still the Continent where war, violence, oppression, poverty and disease are daily occurrences and create situations of growing injustice and increasingly dramatic poverty, if compared with the rest of the world.
Many problems of underdevelopment seem to have become largely part of Africa's destiny: bad government, lack of the rule of law, conflict and violence in all its forms, low school attendance, high infant mortality, endemic diseases such as malaria and HIV / AIDS, resource squandering, poverty in which most of the population live and the plight of refugees and displaced persons.
However, Africa today has once again become a Continent coveted by major world powers and the multinationals. There is only one goal: to plunder systematically Africa's forests and natural resources such as oil, diamonds, uranium, gold, coltan, etc. with the endorsement of local authorities willing to sell out their Countries in return for personal, ethnic or party gains.
We notice recently, with a growing sense of dismay, a purposely ambiguous plan: the implementation of the so-called "model projects", touted as a means to use the newly discovered resources to kick off a new development; these projects, in fact, while not contributing to the people's benefit, increase their material, moral and social poverty.
One cannot be blind on what is happening now. Lies are widely used: the lack of information about what is happening in the mining and water supply industry is systematic. The contempt for the deteriorating situation of people who are living in these areas is disturbing. The expropriation of lands is carried out with violence and a sense of impunity especially at the expense of poor peasants. Numerous are the land conflicts and social strives, with frequent loss of lives. The disappearance of the values of solidarity for unrestrained, lawless and personal gain is relentless. Corruption at all levels is shockingly increasing, damaging and distorting people's mentality. In short, the decline is not only social but ethical and moral: prostitution is worryingly on the rise, especially among young people; family life is weakened because of frequent cases of marriage infidelity due to easily accessible money; husbands leave their family commitments and their wives who are left struggling by themselves; there are conflicts among parents who resign their parental duties and responsibility of educating their children and so on...
Rather than fighting poverty, the newly acquired wealth has openly been and is causing degradation and inequality, is used to buy weapons and fueling endless conflicts. Instead of being a blessing, wealth has unfortunately become a curse for most of the people.
Africa has, therefore, to be helped to start, at last, to use all these riches that belong to her for herself, her sons and daughters, after so many years of injustice and exploitation. With prophetic vigour we need to find again and propose to powerful people of this world the way that respects the human being and an economy that defends his/her dignity and freedom of self-determination.
In such a situation, we the bishops of the Comboni missionaries, heirs of Comboni's tender love "for the poorest and most abandoned," feel that the Church cannot keep silent, but must openly speak in the name of Jesus of Nazareth, who in this land of Palestine preached love for the underprivileged. The Church has also the right to ask herself and people: "Who owns Africa's natural resources?" For us bishops there is no doubt that Africa's natural resources belong to the peoples of Africa. The Church's involvement is, therefore, a must. "Africa is already moving; and the Church is moving with her, offering her the light of the Gospel. The waters may be turbulent. But with our gaze on Christ the Lord we shall make it safely to the port of reconciliation, justice and peace. "(Final Message of the Second African Synod, n. 42).
While we wait with confidence the message of our shepherd, Pope Benedict XVI to Africa and the world, we make ours the appeal of Bishops at the Synod for Africa in October 2009, "To the great powers of this world, we plead: treat Africa with respect and dignity" (Id. n. 32)
Mons. Aguirre Muñoz Juan José
Bishop of Bangassou (Rép. Centrafrique)
Mons. Arellano Fernández Eugenio
Apostolic Administrator of Nord Arabia (Kwait)
Mons. Filippi Giuseppe
Bishop of Kotido (Uganda)
Mons. Franzelli Giuseppe
Bishop of Lira (Uganda)
Mons. Girardi Vittorino
Bishop of Tilarán (Tilarán)
Mons. Migliorati Giovanni
Apostolic Administrator of Awasa (Ethiopia)
Mons. Perin Guerrino
Bishop of M'baïki (Rép. Centrafricaine)
Mons. Rodríguez Salazar Jaime
Bishop of Huánuco (Perú)
Mons. Russo Michele
Bishop of Doba (Tchad)
Mons. Sandri Giuseppe
Bishop of Witbank (South Africa)
Mons. Sebastián Martínez Miguel Angel
Bishop of Laï (Tchad)
P. Enrique Sánchez González
Superior General of the Comboni Missionaries
Mother General Premoli Luzia
Superior General of the Comboni Missionary Sisters