The scene is surprising. Mark the Evangelist presents an unknown woman as a model of faith for the Christian communities. From her they can learn how to seek Jesus with faith, how to reach a healing contact with him, and how to find in him the energy to begin a new life, full of peace and health. [...]
Mark 5: 21-43
A WOMAN'S GREAT FAITHW
by José Antonio Pagola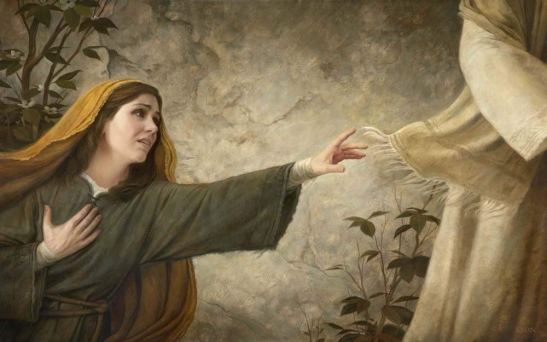 The scene is surprising. Mark the Evangelist presents an unknown woman as a model of faith for the Christian communities. From her they can learn how to seek Jesus with faith, how to reach a healing contact with him, and how to find in him the energy to begin a new life, full of peace and health.
Unlike Jairus, who is identified as «the president of the synagogue» and an important man in Capernaum, this woman is a nobody. We only know that she suffers a hidden sickness, typically feminine, that keeps her from living her life as a woman, wife and mother in a healthy way.
She suffers much both physically and morally. She's been ruined going around seeking help from doctors, but no one's been able to heal her. However she resists living always as a sick woman. She's alone. No one helps her come close to Jesus, but she will know how to get to him.
She doesn't wait passively for Jesus to come to her and place his hands on her. She herself seeks him out. She will go about overcoming every obstacle. She will do everything she can and knows how to do. Jesus will understand her desire for a more healthy life. She completely trusts in his healing power.
The woman isn't satisfied only with seeing Jesus from afar. She seeks a more direct and personal contact. She acts with determination, but not thoughtlessly. She doesn't want to bother anyone. She draws near from behind, among the crowd, and touches his cloak. In that delicate gesture her complete confidence in Jesus is realized and expressed.
Everything has happened secretly, but Jesus wants everyone to recognize this woman's great faith. When she confesses what she's done, frightened and trembling, Jesus tells her: «My daughter, your faith has restored you to health; go in peace and be free of your complaint». This woman, with her capacity to seek and welcome the salvation that comes to us in Jesus, is a model of faith for all of us.
Who is helping the women of our day to encounter Jesus? Who makes the effort to understand the obstacles that they find in some parts of today's Church to live out their faith in Christ «in peace and free of complaint»? Who values the faith and the efforts of the women theologians who, with little or no support and conquering all kinds of resistance and rejection, work tirelessly to open pathways that allow women to live with more dignity in Jesus' Church?
Women don't find among us the welcome, the appreciation and the understanding that they find in Jesus. We don't know how to look at them the way Jesus looked at them. However, frequently they are also the ones who sustain the life of not a few Christian communities with their faith in Jesus and their Gospel spirit.
José Antonio Pagola
Translator: Fr. Jay VonHandorf