Pope Francis is calling us to a «new stage of evangelization marked by Jesus' joy». What could it consist of? Where can its novelty lie? What needs to change? What was Jesus' real intention when he sent his disciples to continue his evangelizing work?
Mark 6:7-13
A NEW STAGE OF EVANGELIZATION
by José Antonio Pagola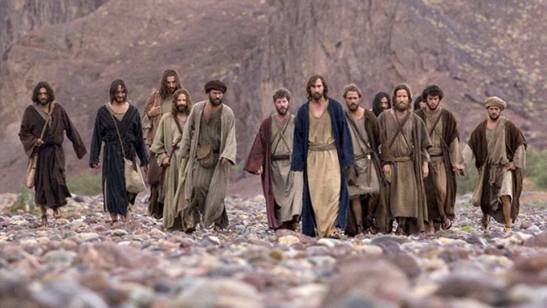 Mark's story makes it clear that Jesus is the source, the inspiration, and the model of doing evangelization for his followers. They are to do nothing in their own name. They are «sent» by Jesus. They won't preach themselves: only announce his Gospel. They won't have other interests: only dedicate themselves to opening up paths to God's reign.
The only way to push a «new stage of evangelization marked by Jesus' joy» is to purify and intensify this connection with Jesus. There won't be a new evangelization if there aren't new evangelizers, and there won't be new evangelizers if there's not a more living, lucid and passionate contact with Jesus. Without him we will do everything except introduce his Spirit into the world.
When he sent them, Jesus doesn't leave his disciples abandoned to their own power. He gives them his «power», which isn't a power to control, govern or dominate others, but his power to «cast out evil spirits», free people from what enslaves, oppresses and dehumanizes them.
The disciples know full well what Jesus has put them in charge of. They've never seen him govern anyone. They've always known him to heal wounds, alleviate suffering, regenerate lives, help people live free from fear, spread trust in God. «Heal» and «free» are priority tasks in Jesus' way of acting. They will give a radically different face to our evangelization.
Jesus sends them out with what's necessary to go walking. According to Mark, they will only take a staff, sandals and one tunic. They don't need anything else to be witnesses of what's essential. Jesus wants them to be free and without hindrances, always available, without getting comfortably settled, trusting in the power of the Gospel.
Without recovering this evangelical style, there's no «new stage of evangelization». What's important isn't to put in place new activities and strategies, but to let go of customs, structures and compulsions that keep us from being free to spread what's essential in the Gospel truly and simply.
In the Church we've lost that itinerate style that Jesus suggests. Her walking is slow and tiresome. We don't know how to accompany humanity. We don't have the agility to pass from a culture that's over and done with, to the culture of now. We hold onto power that we've had. We get caught up in interests that don't coincide with God's reign. We need conversion.
José Antonio Pagola
Translator: Fr. Jay VonHandorf