The central ecclesiastical issue within the synod hall emerged as the one that everyone knew it would be: a disciplinary question regarding mandatory celibacy for secular (roughly, "diocesan") priests. Several senior prelates, some of whom had been high-ranking members of the steering committee that organised the meeting, are in favour of relaxing the rule currently in force in the Latin Church.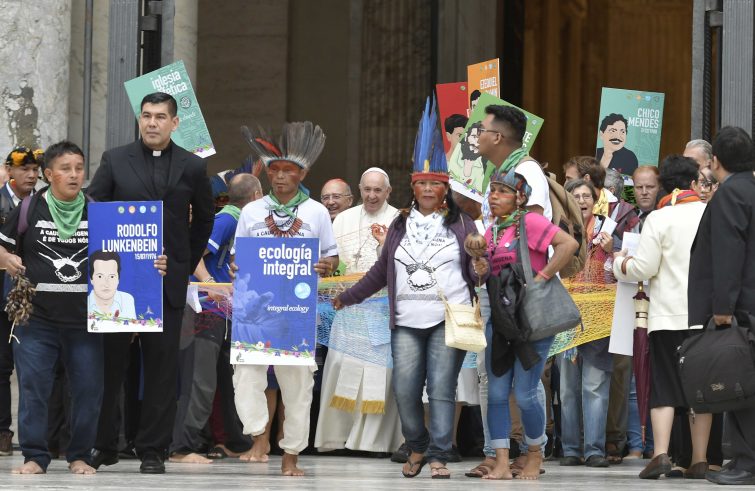 As discussion of the issue continues to unfold, it is important to keep in mind that abolishing celibacy is not on the table. Celibate witness is an indispensable good for the whole Church and for all local Churches. It is unalterably part of religious life in both East and West. It would not be legally banished from secular priestly life, even if Pope Francis (or anyone else in the future) should change the discipline. Whether celibate witness would survive in the secular clergy is a separate question, as is the question whether changing the discipline would help foster specific vocations to religious life in the West, or hurt it.
It could go either way.
One bishop who would like to change to the current discipline has claimed that two thirds of participating bishops are in favour of some modification to the status quo. Pope Francis has declared himself personally opposed to change. He has also pronounced himself willing to bend to the will of the bishops in these regards. Francis pitched a specific proposal as one he found worth considering: that of Bishop Fritz Lobinger, a German native who served most of his career as a missionary in South Africa, and developed a scheme according to which leading men among remote populations underserved by celibate priests would be admitted to Holy Orders so they could celebrate Mass for their communities.
Roughly and readily, his proposal would create cadres of what used to be called simplex priests: men ordained to the priesthood, but restricted in the exercise of priestly ministry and the rights of the clerical state, if not denied the state all together. As Charles Collins pointed out in an October 9 analysis piece for Crux, "The system would have the de facto result of creating an indigenous clergy not allowed to use the titles and dress used by non-indigenous clergy – nor even allowed to exercise their ministry outside of their village."
Collins continued: "For indigenous peoples who themselves have often had to suffer under similar restrictions in their daily life, there might be resentment if their 'elders' are treated as second-class clerics."
At the daily press briefing on Monday, Bishop Carlo Verzeletti of Brazil voiced opposition to the idea of creating such a system, even as he expressed support for ordaining married men. "I'm not thinking about second-class priests," Bishop Verzeletti said – in his prepared remarks at the top of the briefing, not in response to a question – "but of persons ready [to assume the responsibilities of ordained ministerial leadership], who lead exemplary lives."
A native of Italy, Verzeletti has spent the last 38 years in Brazil, nearly all of the last quarter of a century in the Amazon. He knows the land and is deeply devoted to the people, whom he described at the briefing as "a people ruined in their values, because of secularism that is on the rise", as well as "religious indifference" and "the violent invasion of the Pentecostal Church, before which popular piety cannot resist."
Whatever the solution, the need for real pastoral leadership in Christian life centred on the sacraments is real and pressing.
Bishop Verzeletti discussed the practical necessity of stable ministerial presence. "We cannot reduce the [figure of] the priest to a sacrament dispenser a few times a year," he said. "Priests have to run from one place to another", over a massive geographical area almost entirely without infrastructure, "and they can meet communities four or five times a year at most."
He added: "They haven't time to follow the life of the people, to offer true pastoral care."
Verzeletti mentioned his 110 permanent deacons, and said he has men "worthy of being ordained priests". He called on the synod fathers to look to the example of other Churches of apostolic origin, which have an unbroken and positive tradition of admitting married men to priestly orders.
Bottom line: if the great ecclesiastical object of the Special Assembly of the Synod of Bishops is to get permission for bishops to put married men in priestly orders, then synod fathers like Bishop Verzeletti appear unlikely to propose – and less likely to accept – half measures. It is also appearing more and more likely that Pope Francis will get the cover he needs to change the discipline, if he wants it.
Christopher Altieri