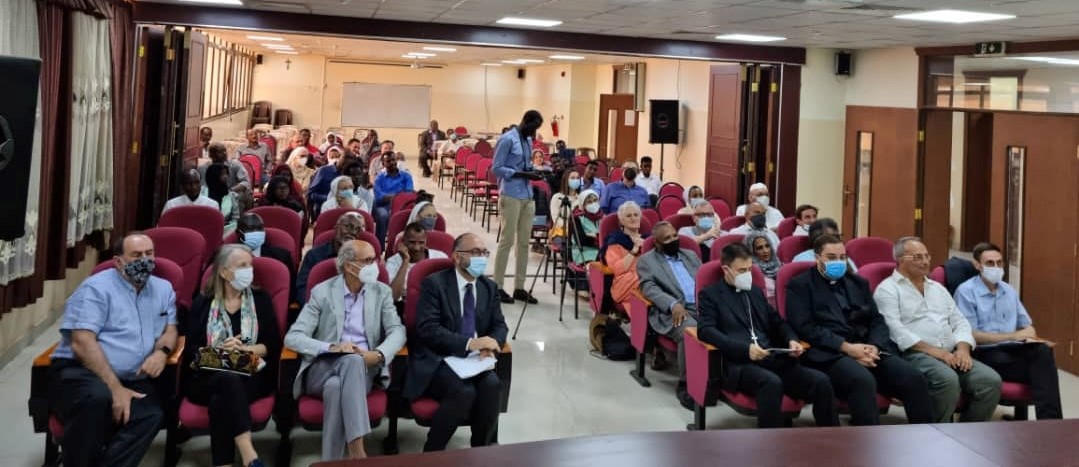 The event was honoured with the presence of Gianluigi Vassallo, Ambassador of Italy to Sudan, Luis Miguel Muñoz Cardaba, Apostolic Nuncio to Sudan, Lucy Tamlyn, Chargè d'Affaires of the Embassy of the United States of America, George Papagiannis, UNESCO Country Representative to Sudan, Dr. Ikhlas Abdellatief Ahmed from the National Corporation of Antiquities and Museums, Arch. Nour Al-Din Al-Regeig, Commissioner for Cultural Heritage of the African Union of Architects, and Dr. Mahmoud Al-Tayeb, archaeologist from the University of Warsaw.
Prof. Intisar Soghayroun, archaeologist and former Ministry of Higher Education and Scientific Research sent a video from Istambul with her personal memories on Fr. Vantini and Arch. Giuseppe Fanfoni, the last alive member of the expeditions to Sonqi Tino organized since 1967 to 1970 by La Sapienza University, joined the event on line.
Fr. Jorge Naranjo, CCST Principal, presented the scientific value of Vantini's work and his condition of man of faith. Both aspects cannot be separated in the person of Fr. Giovanni Vantini. He also introduced four graduation projects executed by students of the BSc of Computer Science in which they applied technology to cultural heritage. Those projects are the result of the training carried out by the Institute of Heritage Science-National Research Council of Italy under the umbrella of the project SudanInnovation: "A new Sudan through culture, technology and innovation", funded by the Italian Embassy to Sudan like this project.
Finally, Dr. Francesco Tiradritti closed this introduction and invited the audience to take a copy of the book prepared for the occasion and visit the exhibition.
You can listen to the speech of Prof. Intisar in the video below:
You can visit two graduation projects on these links:
http://ccst.edu.sd/kerma/ and
https://www.canva.com/design/DAE62ONpJzo/KlHpNxzWmJiAVcFpBU6Ffw/view?website#2:home