Meditations of Pope Francis
on the occasion of the
World Day for Consecrated Life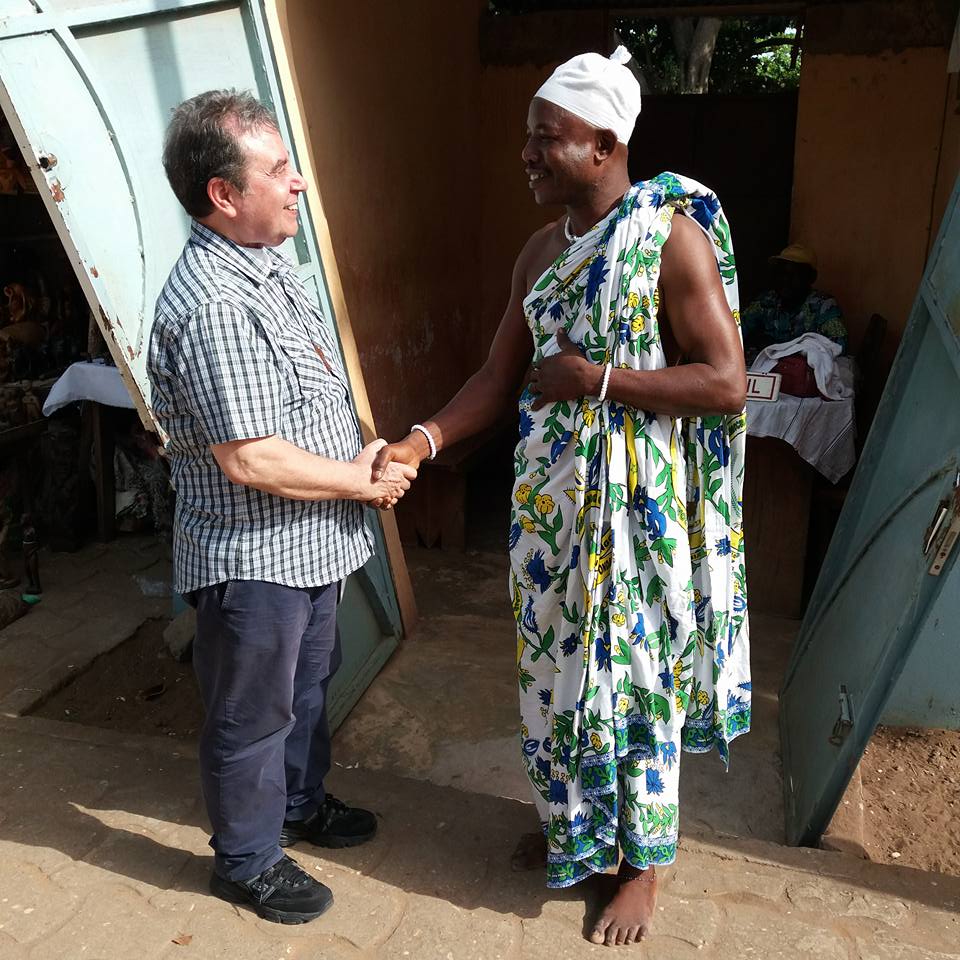 FEAST OF ENCOUNTER:
Call to mind our original meeting with the Lord
to renew our first love
Today's Liturgy shows Jesus who goes out to meet his people. It is the feast day of encounter: the newness of the Child encounters the tradition of the temple; the promise finds fulfillment; young Mary and Joseph encounter the elderly Simeon and Anna. Everything, therefore, meets as Jesus arrives.
What does this mean for us? Above all, that we too are called to welcome Jesus who comes to meet us. To encounter him: the God of life is to be encountered every day of our lives; not now and then, but every day. To follow Jesus is not a decision taken once and for all, it is a daily choice. And we do not meet the Lord virtually, but directly, we encounter him in our lives, in the concreteness of life. Otherwise, Jesus becomes only a nice memory of the past. When we welcome him as the Lord of life, however, as the centre and the beating heart of everything, then he is alive and lives anew in us. And what happened in the temple also happens to us: around him everything meets, and life becomes harmonious. With Jesus we find again the courage to carry on and the strength to remain firm. The encounter with the Lord is the source. It is important then to return to the source: to retrace in our mind the decisive moments of encounter with him, to renew our first love, perhaps writing down our love story with the Lord. This would be good for our consecrated life, so that it does not become a time that passes by, but rather a time of encounter.
If we call to mind our original meeting with the Lord, we become aware that it did not arise as something private between us and God. No, it blossomed in the context of a believing people, alongside many brothers and sisters, at precise times and places. The Gospel tells us this, showing how the encounter takes place within the people of God, in its concrete history, in its living traditions: in the temple, according to the law, in the context of prophecy, in young and old together (cf Lk 2:25-28, 34). It is like this too in the consecrated life: it blossoms and flourishes in the Church; if it is isolated, it withers. It matures when the young and elderly walk together, when the young rediscover their roots and the elderly welcome those fruits. When we walk alone, however, when we remain fixated on the past or jump ahead in trying to survive, then the consecrated life stagnates. Today, on the feast day of encounter, we ask for the grace to rediscover the living Lord amid a believing people, and to allow the charism we have received to encounter today's graces.
The Gospel also tells us that God's encounter with his people has both a starting point and a destination point. It begins with the call in the temple and arrives at the vision in the temple. It is a call that is twofold. There is a first call "according to the law" (v. 22). It is the call of Joseph and Mary, who go to the temple to fulfil what the law prescribes. The text emphasizes this almost as a refrain, even four times (cf. vv. 22, 23, 24, 27). This is not something forced: Jesus' parents are not constrained to go or merely to perform an external duty. They go in response to God's call. Then there is a second call, according to the Spirit. It is the call of Simeon and Anna. This too is stressed with insistence: three times, in the case of Simeon, it refers to the Holy Spirit (cf. vv. 25, 26, 27) and it concludes with Anna the prophetess, who was inspired to give thanks to God (cf. v. 38). Two young people run to the temple, called by the law; two elderly people moved by the Spirit. What does this twofold call, by the law and by the Spirit, mean for our spiritual life and our consecrated life? It means that we are all called to a twofold obedience: to the law – in the sense of what gives order to our lives – and to the Spirit, who does new things in our lives. And so the encounter with the Lord is born: the Spirit reveals the Lord, but to welcome him we need to persevere every day. Even the greatest charisms, if lacking an ordered life, cannot bear fruit. On the other hand, even the best rules are not sufficient without the freshness of the Spirit: the law and the Spirit go together.
To better understand this call, seen today in the temple in the first days of Jesus' life, we should move to the first days of his public ministry, at Cana, where he transforms water into wine. There too there is a call to obedience, with Mary, who says: "Do whatever he tells you" (Jn 2:5). Do whatever. And Jesus asks for something particular; he does not suddenly do something new, does not produce the missing wine out of nothing – he could have done so – but he asks for something concrete and demanding. He asks them to fill six great stone water jars for the ritual purification, which recalls the law. That means pouring around six hundred litres of water from the well: time and effort, which seemed pointless, because what was missing was not water but wine! And yet, precisely from those jars filled "up to the brim" (v. 7), Jesus draws forth new wine. And so it is for us: God calls us to encounter him through faithfulness to concrete things – God is always encountered in concrete things: daily prayer, Holy Mass, Confession, real charity, the daily word of God, closeness, especially to those most in need spiritually or physically. Concrete things, such as obedience to one's superior and to the rule in the consecrated life. If we put this law into practice with love – with love! – then the Spirit will come and bring God's surprise, just as in the temple and at Cana. Thus the water of daily life is transformed into the wine of newness, and our life, which seems to be more bound, in reality becomes more free. (…)
The encounter which is born of the call culminates in vision. Simeon says: "My eyes have seen your salvation" (Lk 2:30). He sees the Child and he sees salvation. He does not see the Messiah who works miracles, but a small child. He does not see something extraordinary, but Jesus with his parents, who bring a pair of turtledoves or two pigeons to the temple, which is the most humble offering (cf. v. 24). Simeon sees God's simplicity and welcomes his presence. He is not looking for anything else, is not asking or wanting for something more; it is enough to see the Child and take him in his arms: "nunc dimittis, now let me depart" (cf. v. 29). God, as he, is enough for him. In God he finds the ultimate meaning of his life. This is the vision of consecrated life, a vision that is simple and prophetic in its simplicity, where we keep the Lord before our eyes and between our hands, and not to serve anything else. He is our life, he is our hope, he is our future. Consecrated life consists in this prophetic vision in the Church: it is a gaze that sees God present in the world, even if many do not notice him; it is a voice that says: "God is enough, the rest passes away"; it is praise that gushes forth in spite of everything, as the prophetess Anna shows. She was a woman of great age, who had lived for many years as a widow, but was not gloomy, nostalgic or withdrawn into herself; on the contrary, she arises, she praises God and speaks only of him (cf. v. 38). I would like to think that this woman knew how to "talk in a good way", and she could be a good patroness to call us to conversion from the evil of gossip, because she went from one place to another saying only: "That's him! That's the baby! Go and see him!" I imagine her like this, the woman next door.
This then is the consecrated life: praise which gives joy to God's people, prophetic vision that reveals what counts. When it is like this, then it flowers and becomes a summons for all of us to counter mediocrity: to counter a devaluation of our spiritual life, to counter the temptation to reduce God's importance, to counter an accommodation to a comfortable and worldly life, to counter complaints – complaints! – dissatisfaction and self-pity, to counter a mentality of resignation and "we have always done it this way": this is not God's way. Consecrated life is not about survival, it is not about preparing ourselves for ars bene moriendi: this is the temptation of our days, in the face of declining vocations. No, it is not about survival, but new life. "But… there are only a few of us…" – it's about new life. It is a living encounter with the Lord in his people. It is a call to the faithful obedience of daily life and to the unexpected surprises from the Spirit. It is a vision of what we need to embrace in order to experience joy: Jesus.
2 February 2019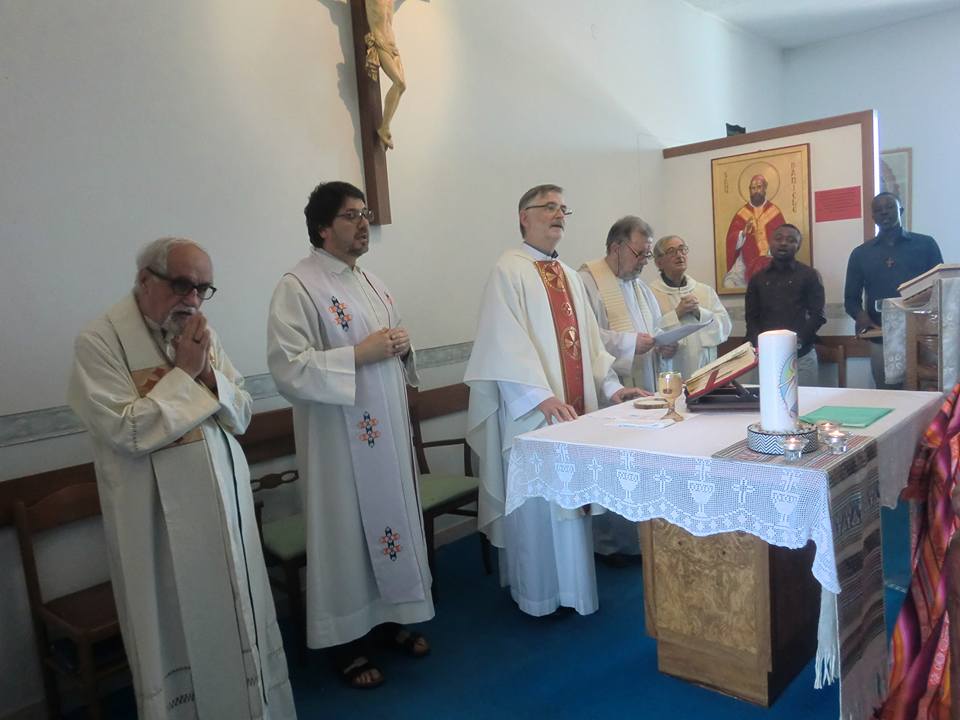 FEAST OF ENCOUNTER:
Encounter between generations, there is never prophecy without memory,
or memory without prophecy
Forty days after Christmas, we celebrate the Lord who enters the Temple and comes to encounter his people. In the Christian East, this feast is called the "Feast of Encounter": it is the encounter between God, who became a child to bring newness to our world, and an expectant humanity, represented by the elderly man and woman in the Temple.
In the Temple, there is also an encounter between two couples: the young Mary and Joseph, and the elderly Simeon and Anna. The old receive from the young, while the young draw upon the old. In the Temple, Mary and Joseph find the roots of their people. This is important, because God's promise does not come to fulfilment merely in individuals, once for all, but within a community and throughout history. There too, Mary and Joseph find the roots of their faith, for faith is not something learned from a book, but the art of living with God, learned from the experience of those who have gone before us. The two young people, in meeting the two older people, thus find themselves. And the two older people, nearing the end of their days, receive Jesus, the meaning of their lives. This event fulfils the prophecy of Joel: "Your old men shall dream dreams, and your young men shall see visions" (2:28). In this encounter, the young see their mission and the elderly realize their dreams. All because, at the centre of the encounter, is Jesus.
Let us look to our own lives, dear consecrated brothers and sisters. Everything started in an encounter with the Lord. Our journey of consecration was born of an encounter and a call. We need to keep this in mind. And if we remember aright, we will realize that in that encounter we were not alone with Jesus; there was also the people of God, the Church, young and old, just as in today's Gospel. It is striking too, that while the young Mary and Joseph faithfully observe the Law – the Gospel tells us this four times – and never speak, the elderly Simeon and Anna come running up and prophesy. It seems it should be the other way around. Generally, it is the young who speak enthusiastically about the future, while the elderly protect the past. In the Gospel, the very opposite occurs, because when we meet one another in the Lord, God's surprises immediately follow.
For this to occur in the consecrated life, we have to remember that we can never renew our encounter with the Lord without others; we can never leave others behind, never pass over generations, but must accompany one another daily, keeping the Lord always at the centre. For if the young are called to open new doors, the elderly hold the keys. An institute remains youthful by going back to its roots, by listening to its older members. There is no future without this encounter between the old and the young. There is no growth without roots and no flowering without new buds. There is never prophecy without memory, or memory without prophecy. And constant encounter.
Today's frantic pace leads us to close many doors to encounter, often for fear of others. Only shopping malls and internet connections are always open. Yet that is not how it should be with consecrated life: the brother and the sister given to me by God are a part of my history, gifts to be cherished. May we never look at the screen of our cellphone more than the eyes of our brothers or sisters, or focus more on our software than on the Lord. For whenever we put our own projects, methods and organization at the centre, consecrated life stops being attractive; it no longer speaks to others; it no longer flourishes because it forgets its very foundations, its very roots.
Consecrated life is born and reborn of an encounter with Jesus as he is: poor, chaste and obedient. We journey along a double track: on the one hand, God's loving initiative, from which everything starts and to which we must always return; on the other, our own response, which is truly loving when it has no "ifs" or "buts", when it imitates Jesus in his poverty, chastity and obedience. Whereas the life of this world attempts to take hold of us, the consecrated life turns from fleeting riches to embrace the One who endures forever. The life of this world pursues selfish pleasures and desires; the consecrated life frees our affections of every possession in order fully to love God and other people. Worldly life aims to do whatever we want; consecrated life chooses humble obedience as the greater freedom. And while worldly life soon leaves our hands and hearts empty, life in Jesus fills us with peace to the very end, as in the Gospel, where Simeon and Anna come happily to the sunset of their lives with the Lord in their arms and joy in their hearts.
How good it is for us to hold the Lord "in our arms" (Lk 2:28), like Simeon. Not only in our heads and in our hearts, but also "in our hands", in all that we do: in prayer, at work, at the table, on the telephone, at school, with the poor, everywhere. Having the Lord "in our hands" is an antidote to insular mysticism and frenetic activism, since a genuine encounter with Jesus corrects both saccharine piety and frazzled hyperactivity. Savouring the encounter with Jesus is also the remedy for the paralysis of routine, for it opens us up to the daily "havoc" of grace. The secret to fanning the flame of our spiritual life is a willingness to allow ourselves to encounter Jesus and to be encountered by him; otherwise we fall into a stifling life, where disgruntlement, bitterness and inevitable disappointments get the better of us. To encounter one another in Jesus as brothers and sisters, young and old, and thus to abandon the barren rhetoric of "the good old days" – a nostalgia that kills the soul – and to silence those who think that "everything is falling apart". If we encounter Jesus and our brothers and sisters in the everyday events of our life, our hearts will no longer be set on the past or the future, but will experience the "today of God" in peace with everyone.
At the end of the Gospels, there is another encounter with Jesus that can inspire the consecrated life. It is that of the women before the tomb. They had gone to encounter the dead; their journey seemed pointless. You too are journeying against the current: the life of the world easily rejects poverty, chastity and obedience. But like those women, keep moving forward, without worrying about whatever heavy stones need to be removed (cf. Mk 16:3). And like those women, be the first to meet the Lord, risen and alive. Cling to him (cf. Mt 28:9) and go off immediately to tell your brothers and sisters, your eyes brimming with joy (cf. v. 8). In this way, you are the Church's perennial dawn. You, dear consecrated brothers and sisters, are the Church's perennial dawn! I ask you to renew this very day your encounter with Jesus, to walk together towards him. And this will give light to your eyes and strength to your steps.
2 February 2018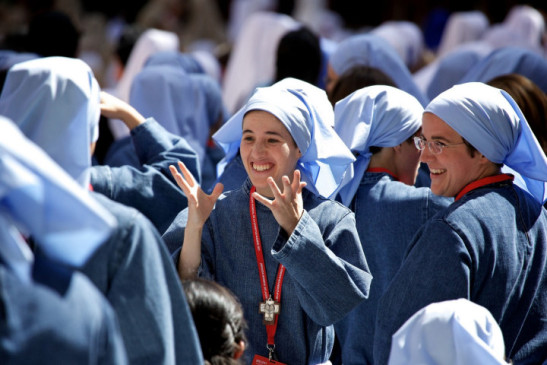 FEAST OF ENCOUNTER:




With Jesus in the midst of his people, taking up the dreams of our elders
When the parents of Jesus brought the Child in fulfilment of the prescriptions of the law, Simeon, "guided by the Spirit" (Lk 2:27), took the Child in his arms and broke out in a hymn of blessing and praise. "My eyes", he said, "have seen your salvation, which you have prepared in the presence of all peoples, a light for revelation to the Gentiles, and for glory to your people Israel" (Lk 2:30-32). Simeon not only saw, but was privileged to hold in his arms the long-awaited hope, which filled him with exultation. His heart rejoiced because God had come to dwell among his people; he felt his presence in the flesh.
Today's liturgy tells us that in that rite, the Lord, forty days after his birth, "outwardly was fulfilling the Law, but in reality he was coming to meet his believing people" (Roman Missal, 2 February, Introduction to the Entrance Procession). This encounter of God with his people brings joy and renews hope.
Simeon's canticle is the hymn of the believer, who at the end of his days can exclaim: "It is true, hope in God never disappoints" (cf. Rm 5:5). God never deceives us. Simeon and Anna, in their old age, were capable of a new fruitfulness, and they testify to this in song. Life is worth living in hope, because the Lord keeps his promise. Jesus himself will later explain this promise in the synagogue of Nazareth: the sick, prisoners, those who are alone, the poor, the elderly and sinners, all are invited to take up this same hymn of hope. Jesus is with them, Jesus is with us (cf. Lk 4:18-19).
We have inherited this hymn of hope from our elders. They made us part of this process. In their faces, in their lives, in their daily sacrifice we were able to see how this praise was embodied. We are heirs to the dreams of our elders, heirs to the hope that did not disappoint our founding mothers and fathers, our older brothers and sisters. We are heirs to those who have gone before us and had the courage to dream. Like them, we too want to sing, "God does not deceive; hope in him does not disappoint". God comes to meet his people. And we want to sing by taking up the prophecy of Joel and making it our own: "I will pour out my spirit on all flesh; your sons and your daughters shall prophesy, your old men shall dream dreams, and your young men shall see visions" (2:28).
We do well to take up the dreams of our elders, so that we can prophesy in our day and once more encounter what originally set our hearts afire. Dreams and prophecies together. The remembrance of how our elders, our fathers and mothers, dreamed, and the courage prophetically to carry on those dreams.
This attitude will make our consecrated life more fruitful. Most importantly, it will protect us from a temptation that can make our consecrated life barren: the temptation of survival. An evil that can gradually take root within us and within our communities. The mentality of survival makes us reactionaries, fearful, slowly and silently shutting ourselves up in our houses and in our own preconceived notions. It makes us look back, to the glory days – days that are past – and rather than rekindling the prophetic creativity born of our founders' dreams, it looks for shortcuts in order to evade the challenges knocking on our doors today. A survival mentality robs our charisms of power, because it leads us to "domesticate" them, to make them "user-friendly", robbing them of their original creative force. It makes us want to protect spaces, buildings and structures, rather than to encourage new initiatives. The temptation of survival makes us forget grace; it turns us into professionals of the sacred but not fathers and mothers, brothers and sisters of that hope to which we are called to bear prophetic witness. An environment of survival withers the hearts of our elderly, taking away their ability to dream. In this way, it cripples the prophecy that our young are called to proclaim and work to achieve. In a word, the temptation of survival turns what the Lord presents as an opportunity for mission into something dangerous, threatening, potentially disastrous. This attitude is not limited to the consecrated life, but we in particular are urged not to fall into it.
Let us go back to the Gospel passage and once more contemplate that scene. Surely, the song of Simeon and Anna was not the fruit of self-absorption or an analysis and review of their personal situation. It did not ring out because they were caught up in themselves and were worried that something bad might happen to them. Their song was born of hope, the hope that sustained them in their old age. That hope was rewarded when they encountered Jesus. When Mary let Simeon take the Son of the Promise into his arms, the old man began to sing – celebrating a true "liturgy" – he sings his dreams. Whenever she puts Jesus in the midst of his people, they encounter joy. For this alone will bring back our joy and hope, this alone will save us from living in a survival mentality. Only this will make our lives fruitful and keep our hearts alive: putting Jesus where he belongs, in the midst of his people.
All of us are aware of the multicultural transformation we are experiencing; no one doubts this. Hence, it is all the more important for consecrated men and women to be one with Jesus, in their lives and in the midst of these great changes. Our mission – in accordance with each particular charism – reminds us that we are called to be a leaven in this dough. Perhaps there are better brands of flour, but the Lord has called us to be leaven here and now, with the challenges we face. Not on the defensive or motivated by fear, but with our hands on the plough, helping the wheat to grow, even though it has frequently been sown among weeds. Putting Jesus in the midst of his people means having a contemplative heart, one capable of discerning how God is walking through the streets of our cities, our towns and our neighbourhoods. Putting Jesus in the midst of his people means taking up and carrying the crosses of our brothers and sisters. It means wanting to touch the wounds of Jesus in the wounds of a world in pain, which longs and cries out for healing.
To put ourselves with Jesus in the midst of his people! Not as religious "activists", but as men and women who are constantly forgiven, men and women anointed in baptism and sent to share that anointing and the consolation of God with everyone.
To put ourselves with Jesus in the midst of his people. For this reason, "we sense the challenge of finding and sharing a 'mystique' of living together, of mingling and encounter, of embracing and supporting one another, of stepping into this flood tide which, while chaotic, can [with the Lord] become a genuine experience of fraternity, a caravan of solidarity, a sacred pilgrimage… If we were able to take this route, it would be so good, so soothing, so liberating and hope-filled! To go out of ourselves and to join others" (Evangelii Gaudium, 87) is not only good for us; it also turns our lives and hopes into a hymn of praise. But we will only be able to do this if we take up the dreams of our elders and turn them into prophecy.
Let us accompany Jesus as he goes forth to meet his people, to be in the midst of his people. Let us go forth, not with the complaining or anxiety of those who have forgotten how to prophesy because they failed to take up the dreams of their elders, but with serenity and songs of praise. Not with apprehension but with the patience of those who trust in the Spirit, the Lord of dreams and prophecy. In this way, let us share what is truly our own: the hymn that is born of hope.
2 February 2017