Summer school in Ethiopia
Thursday, September 7, 2017
What is the best way of spending holiday? This question was not in the mind of children living in the neighborhood of the clinic I work in. They mostly come from poor, large families and their parents cannot afford any holiday activities for them. Time just passes while they get bored. We decided to take them out of this summer idleness. Using their time, which they have in overabundance and financial means received by the group of Polish Comboni Lay Missionaries, we tried to make for them something pleasant and useful at the same time. We organized the summer school. 80 boys and girls of age from 12 to 18 took part in that. Children were divided into three groups: older boys and girls separately and youngest students together. Each group attended in 1-week program.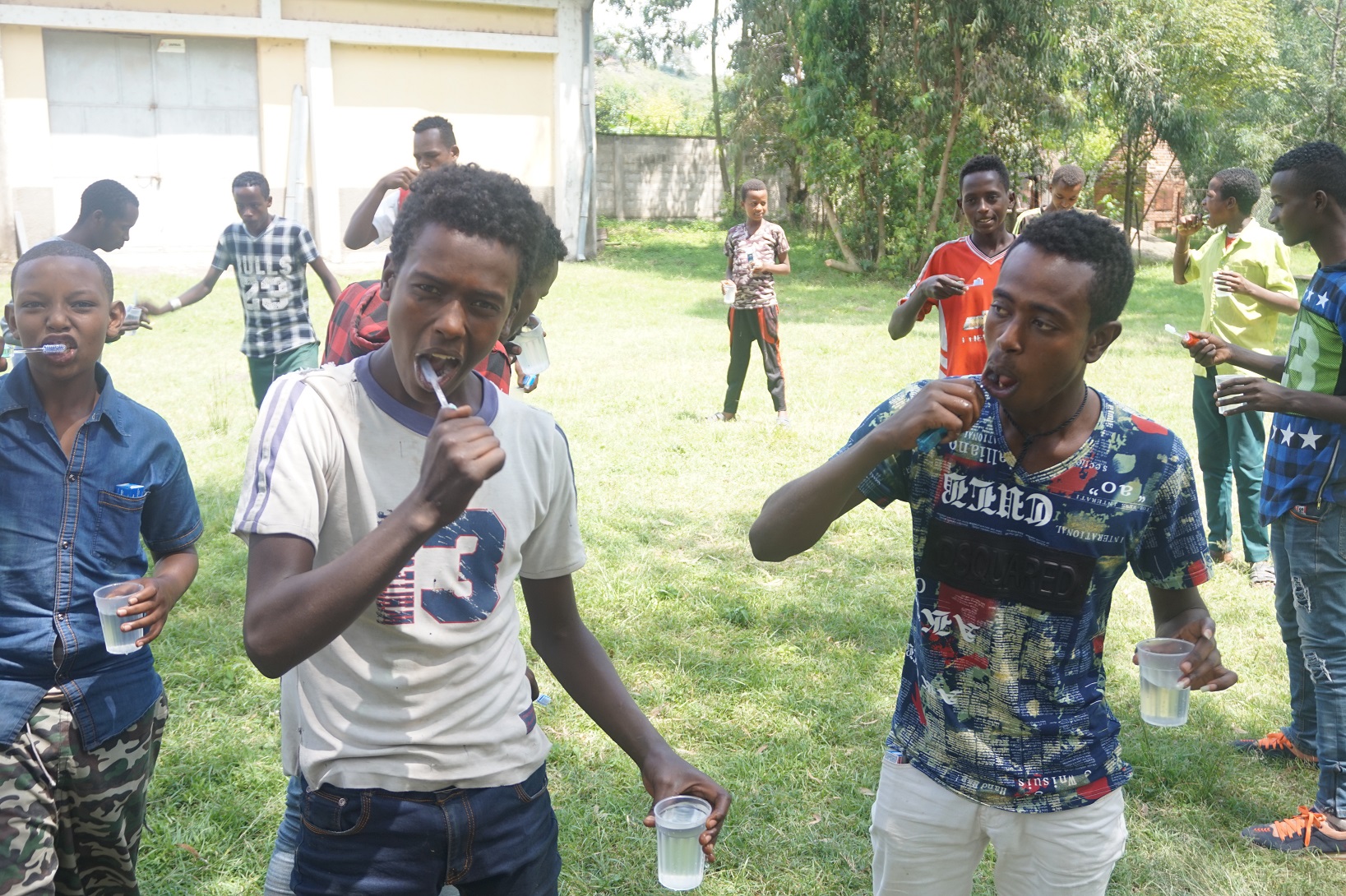 We started each day with a prayer "Our Father". During the classes they were taught about nutritious food, hygiene, environment protection, family planning method and first aid. They were taught about problems facing teenagers ie. addictions, AIDS, sexually transmitted diseases, abortions, female genital mutilation and forced early marriages.
For the purpose of better perceiving of the knowledge many of the lessons were conducted as outdoor activities: practical exercises or games. After the classes about nutritious food children went to do some gardening, when they learnt how to make patches and plant vegetables. At the end of the hygiene lesson toothbrushes and toothpastes were distributed and all children brushed their teeth. Lecture of the first aid, when short "what-to-do" movies were shown, was followed by practical exercises, where young students played roles of fainted, burnt and choked people as well as their lifesavers. During one of the games they learnt how to behave in a good manner – for example when seeing white person better to greet him instead of calling "youyouyou". What they learnt during all the week they painted during the last lesson.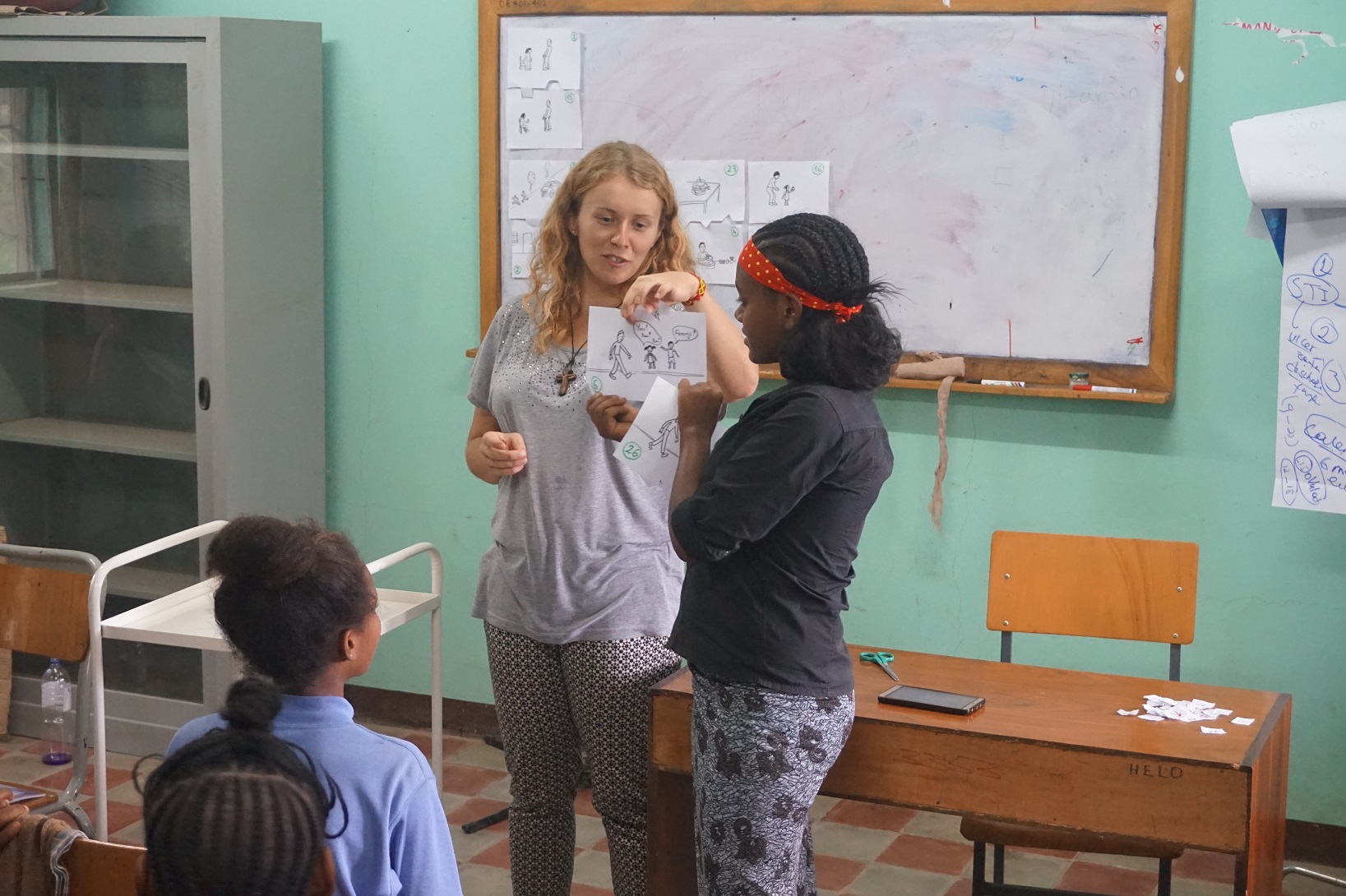 One of the classes concerned the creation of the world. There were shown pictures proving beauty of the world created by God, ie. wonderful landscapes of Ethiopia, beautiful sunset at the Awassa lake, at the side they live. Just after that there were presented photos of the rubbish scattered in their neighborhood. After this short lecture we went with zeal to pick-up the rubbish from the clinic compound.
During the school break each student received a pack of biscuits. Every child received daily nutritious lunch: injera with different vegetables, what could be consider as a good example of nutritious food they learnt about during their classes. The school has ended with official graduation ceremony, where certificates of attendance were distributed. Every student as a gift received a school set, consisting of exercise books, a pen, a pencil, and a sharpener, what for many families was a significant reduction of the household expenses. Additionally, twelve the most active students received an extra math's set (compass, ruler, setsquare).
Everyone like the school so much. Teachers were happy that students were interested in all the subjects. Children are already waiting for another summer school next year.
Tobiasz Lemanski, CLM Etiophia