Moved by the deplorable situation of prisoners in Togo's prisons and, responding to the invitation of the Holy Father, the Justice and Peace, Integrity of Creation (JPIC) Commission of the Comboni Missionaries' Province of Togo-Ghana-Benin, has made it a goal to be concretely more present in the prison of Aného, South of Togo.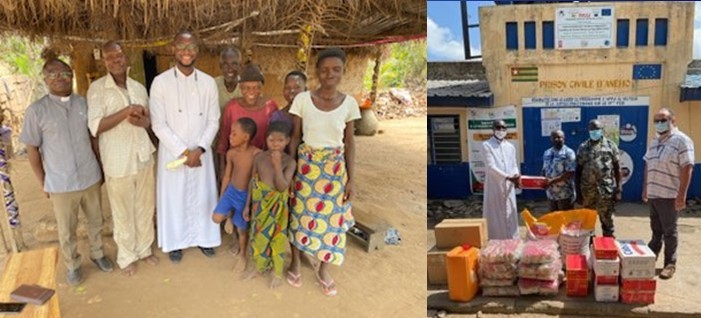 Aided by ONLUS Mondo Aperto – a non-profit from the Comboni Missionaries supporting mission projects – the JPIC commission, in collaboration with the diocesan chaplaincy for the prisons of the diocese of Aného, was able to help the detainees by providing food, health and pharmaceutical donations. After receiving the donations, the prison chief warden and the diocesan prison chaplain thanked the Comboni Missionaries for the "evangelical gesture" towards the inmates.
In addition, the Justice and Peace Commission has identified seven families of the most needy prisoners to receive aid. Some families received donations in cash (for schooling and various training of prisoners' children as well as for health care) and others in kind. Even more concretely, the commission engaged in the defense and release of a young Christian detained for participating in a popular revenge against a thief who died as a result of the injuries sustained. This young man was released last March and is gradually reintegrating into society after seven years in prison.
It should be noted that Togo's prisons are mostly overcrowded, and the food, sanitary and hygienic conditions of the detainees leave much to be desired. We thank ONLUS Mondo Aperto for its funding that allowed us to get closer to our brothers and sisters detained in Aného prison and their families.
Fr. Johnny Hanson Agboli, mccj
Comboni Missionaries