We thank in particular Sr. Barbara Paleczny, School Sisters of Notre Dame, for her tireless effort to make this program a success. Before this teacher training, none of the persons teaching in our county had a proper teacher's education. The school system is slowly being established since about 20 years. While Fangak County with a population of about 120,000 had only three primary schools in the year 2000, there were already 27 schools in 2010, and in 2018, there are about 80 villages that offer formal education. But they don't offer students to complete primary school because they were opened recently and have not yet reached the highest class level, which is Primary 8 in South Sudan. The second reason is the lack of trained teachers who are able to teach until Primary 8. Currently, there is only one school in the entire county, run by the Comboni Missionaries, where a student can obtain a primary leaving certificate. We hope that this will change in the near future with the graduation of the 44 teachers at Solidarity Teacher Training College.
Annual Retreat
From 8th-14th April 2018, fifteen of us Comboni Missionaries coming from different missions of the province, joined by two Comboni Missionary Sisters converged in the Good shepherd Peace Centre-Kit for our annual retreat. The theme chosen for this year's annual retreat is: "The Institute as communion of confreres consecrated to the missionary service." It is taken from the many themes given by the commission for the revisiting and revision of the Rule of Life. It was meant to help us to enter in the process of revisiting and revision of our Rule of life. This week of retreat was animated by Fr. Andrew Rusatsi, SJ. It was indeed an important moment of rest with the Lord, of prayer, of renewal and re-commitment for the missionary service in this part of our Institute. We felt encouraged and strengthened by the Spirit of Christ, who always guided and protected his apostles in building the early Christian community. We also felt close to our founder St. Daniel Comboni, whose zeal and resilience for the mission in Africa kept on resurfacing in the reflections of the animator.
Lumko Workshop
A total of 25 people; seven Comboni missionaries, three diocesan priests (including the director of Pastoral office of the archdiocese), one Mill Hill Missionary, one sister of the sisters of charity and thirteen lay leaders coming from different parishes in the archdiocese of Juba participated in one week Lumko course, organized by our secretariat of mission in April. This took place in our provincial house, facilitated by Mr. Waswa Joseph a member of Lumko team and originally from archdiocese of Tororo-Uganda. It was centred on how to initiate, build and sustain small Christian communities in our parishes. The facilitator presented the small Christian communities as grass root structures that bring vitality and dynamism in the parish community. Without them the pastoral programs of the parish would not be able to reach far and wide. This course therefore aims at empowering the participants with some basic skills of initiating, building and sustaining small Christian communities. Many of the participants described it as "a long awaited course". In all, those who took part in the course are grateful to the Comboni missionaries who initiated and spearheaded its organization.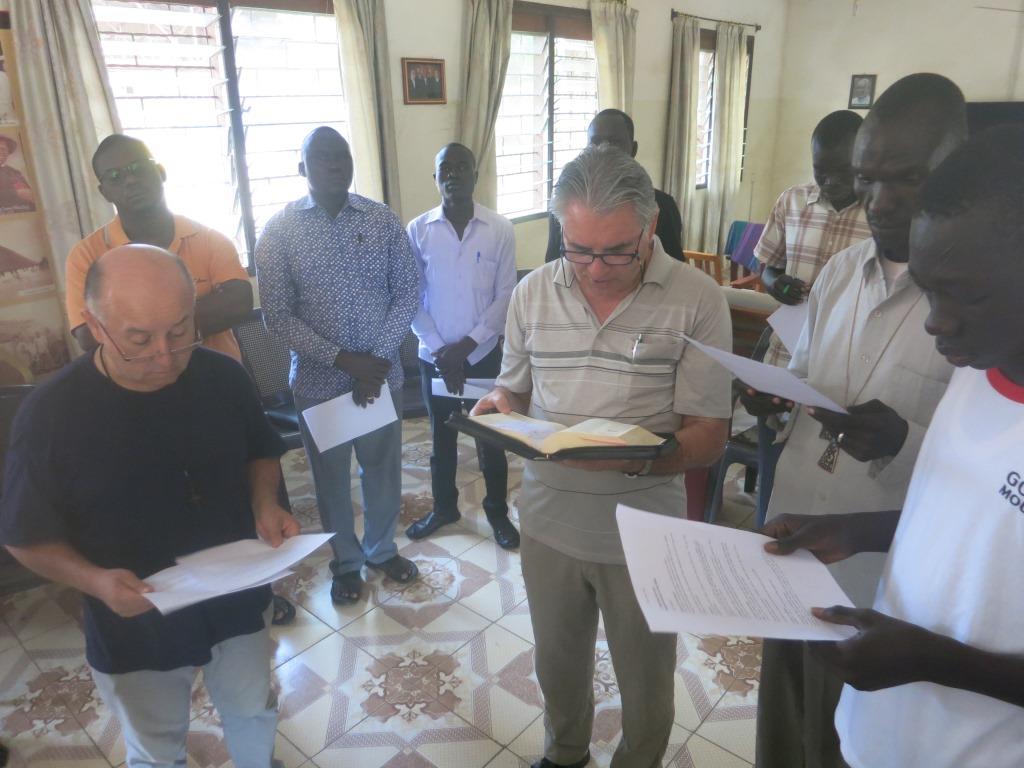 Meeting under 45
For the first time, our young missionaries under 45 years organized their annual meeting together with the young CMS sisters of South Sudan on April 15-16, 2018. We were 8 sisters, 2 brothers and 5 fathers and had two days of encounter where each participant spoke about his/her vocation journey and life in the mission. It was a deep and enriching witness. It is an encouragement to know of each other's struggle and joys because many experiences are common to all of us. We also laughed a lot about the surprises and absurdities of our missionary life. On the second day, we visited the grave of missionary Angelo Vinco in Gonrokoro on the other side of the Nile where we celebrated the mass. We hired a speed boat that was rather a "slow" boat and completed the day with a visit to a restaurant.