"I knew nothing about it, I was celebrating Mass here in Lourdes…". The Archbishop of Bologna, Matteo Zuppi, caught by surprise like the other candidates to the cardinalate, commented on the choice of Pope Francis, announced yesterday – when the Church celebrated the World Day of Creation – at the end of a challenging Angelus prayer that began late since Francis was stuck in a Vatican elevator.
He is the only Italian prelate who will be created Cardinal on October 5: the remaining 12 come from Europe, Latin America, Asia and Africa. The only part of the world absent in the map outlined by the sixth Consistory convened by Bergoglio – scheduled for October 5, in the wake of the Synod on the Amazon – is North America. "I was immediately reminded of the Gospel today," continued Zuppi, who was formed in the Community of Sant'Egidio: "Whoever exalts himself will be humiliated and whoever humbles himself will be exalted. I am grateful to Pope Francis for thinking of me and I consider it as an invitation to pray and work even more for the unity of the Church. The cardinal's garment is red for his witness extends to the point of the shedding of his blood. We hope to be good witnesses of the Gospel: that of today is very clear."
Missionary vocation, inter-religious dialogue and responsibility towards creation. These are three key-traits shared by the thirteen new cardinals, eight of whom are members of religious congregations.
From 5 October next, 52% of the voting cardinals will have been chosen by Pope Francis in his six Consistories, since 2014. The College of Cardinals will hence be composed of 228 cardinals altogether, 128 of whom will be cardinal electors and 100 non-electors. Of the new red hats, 10 will go to cardinal electors and three to non-electors, i.e. over eighty. The 128 cardinal electors will include: 55 Europeans ( 22 Italians); 23 Latin Americans; 13 North Americans; 17 Africans, 16 Asians and 4 from Oceania.
They express "the missionary vocation of the church that continues to proclaim the merciful love of God to all men and women of the earth", is the mandate entrusted by the Holy Father to the new cardinals.
Miguel Ángel Ayuso Guixot (1), president of the Pontifical Council for Interreligious Dialogue since 25 May last, was born in Seville on 17 June 1952. Comboni missionary in Egypt and Sudan until 2002, he served as Professor of Islamology from 1989 first in Khartoum, then in Cairo and then at the Pontifical Institute for Arabic and Islamic Studies, where he held the office of dean until 2012.
José Tolentino Calaça de Mendonça (2), archivist and librarian of the Holy Roman Church since June 2018, is Portuguese, from Madeira, where he was born on December 15, 1965. He was the rector of the Pontifical Portuguese College in Rome, Lecturer at the Catholic Universities of Pernambuco and Rio de Janeiro and at the Faculty of Philosophy and Theology of Belo Horizonte. He served as consulter at the Pontifical Council for Culture since 2011.
Ignatius Suharyo Hardjoatmodjo (3), Archbishop of Jakarta and President of the Bishops' Conference of Indonesia, was born on 9 July 1950 in Sedayn and ordained priest on 26 January 1976. He was appointed Military Ordinary in Indonesia on 2 January 2006.
Juan de la Caridad García Rodríguez (4), Archbishop of San Cristóbal de la Habana, was born in Camagüey on 11 July 1948. Ordained priest on 25 January 1972, he was appointed Metropolitan Archbishop of San Cristóbal de La Habana by Pope Francis on 26 April 2016.
Fridolin Ambongo Besungu (5), Archbishop of Kinshasa, was born in Boto on 24 January 1960. Ordained priest on 14 August 1988, he has served as bishop of Bokungu-Ikela since 6 March 2005. In June 2016 he became Vice-President of Congo's National Bishops' Conference.
Jean-Claude Höllerich (6), Archbishop of Luxembourg, was born on 9 August 1958 in Differdange. In 1981 he joined the Society of Jesus. Among other things, he was the delegate of the Japanese Bishops' Conference for the World Youth Day in Cologne in 2005. Pope Benedict XVI appointed him Archbishop of Luxembourg on 12 July 2011.
Alvaro L. Ramazzini Imeri (7), Bishop of Huehuetenamgo, born in Ciudad de Guatemala on 16 July 1947, was ordained priest on 27 June 1971. He received episcopal consecration in Rome from Saint John Paul II on 6 January 1989. He served as President of the Bishops' Conference of Guatemala from 2006 to 2008.
Matteo Zuppi (8), Archbishop of Bologna since 2015. He was born in Rome on 11 October 1955 and was ordained for the Diocese of Palestrina in 1981 and incardinated in Rome on 15 November 1988. He was Assistant Ecclesiastic General of the Community of St Egidio from 2000 to 2012; Parish of Sts Simon and Jude parish in Torre Angela from 2010 to 2012, and from 2011 to 2012 Prefect of the 17th Prefecture of Rome. He became an Auxiliary Bishop of Rome on 31 January 2012 with the titular see of Villanova, he received his episcopal consecration on 14 April of the same year.
Cristóbal López Romero (9), nominated archbishop of Rabat in December 2017. He was born on May 19 1952 in Vélez-Rubio of the Diocese of Almería in Spain. He entered the Salesians in 1964 and was ordained priest on May 19 1979.
Michael Czerny (10), Undersecretary of the Migrants and Refugees Section of the Dicastery for Promoting Integral Human Development, – was born in the former Czechoslovakia in 1946 and entered the Society of Jesus in 1963. In 1973 he was ordained a priest of the Canadian Province of Jesuits. In 2009, Pope Benedict XVI nominated him an adiutor (expert) for the Second Synod of African Bishops.
Three bishops emeritus complete the list. They are:
Michael Louis Fitzgerald
Sigitas Tamkevičius
Eugenio Dal Corso
[M. Michela Nicolais – SIR]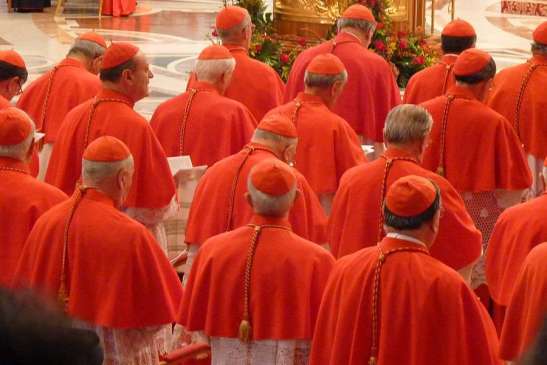 With the consistory of Cardinals set on Oct. 5, Pope Francis will create 13 new cardinals. His choices are revealing of Pope Francis' modus operandi. There are, in fact, five keys to understanding Pope Francis choices.
First key: Pope Francis awards his most trusted collaborators.
Second Key: despite what is commonly said, Pope Francis is eager to deliver red birrettas to people in traditional cardinalatial positions, if the Pope places trust in them.
Third key: Pope Francis always award with a red hat a country he had visited during the year.
Fourth key: Pope Francis always look at the outward bounds and the less represented countries.
Fifth key: Pope Francis gives implicit signals of a change of course with his picks for the over 80 cardinals, that will have no right to vote in a conclave.
The pick of Fr. Michael Czerny proves the first key. Fr. Czerny, a Jesuit with a long-standing missionary experience, made his way as a collaborator of Cardinal Peter Turkson in the Pontifical Council for Justice and Peace. In 2016, Pope Francis appointed him as undersecretary of the Migrants and Refugees section, within the Dicastery for the Service of the Integral Human Development. Pope Francis is the head of this section. Now, with a cardinal at the helm of it, the section will weight as much as the dicastery under which it operates.
Fr. Czerny's pick is also a statement: Pope Francis wanted to emphasize how important the issue of migration is to him.
The cardinals-elect Miguel Angel Ayuso Guixot, José Tolentino Mendonça, Fridolin Ambongo Besungu, Juan de la Caridad Garcia Rodrigue and Matteo Zuppi fit with the second key of interpretation.
Archbishop Ayuso was appointed May 25 president of the Pontifical Council for the Interreligious Dialogue. He had served as secretary of the dicastery since 2012. He replaced the former president, Cardinal Jean Louis Tauran, who passed away on July 2018. Archbishop Ayuso worked on Cardinal Tauran's side. Among his successes, the restoration of the Holy See relations with al Azhar university, the most prominent Sunni Muslim institution. After the restoration, there have been five meetings between Pope Francis and the Grand Imam of al Azhar. The Pope and the Grand Imam also jointly signed on Feb. 2 the Declaration on Human Fraternity in Abu Dhabi. Pope Francis appreciated Ayuso's work, who was the first in the list of new cardinals.
Indeed, the position of president of the Pontifical Council for Interreligious Dialogue is a cardinalatial post, as is the post of Prefect of the Vatican Library. For this reason, José Tolentino Mendonça will be created a cardinal. It is no surprise.
It is, indeed, striking that Pope Francis never created cardinal the former prefect, Jean Louis Brugues, who retired last year. Pope Francis, however, had some harsh with Brugues. When he was the secretary of the Congregation for Catholic Education, Brugues opposed to the appointment of Victor Fernandez as rector of the Catholic University of Buenos Aires. Cardinal Bergoglio instead backed the nomination of Fernandez, who is now dubbed to be one of the Pope Francis' ghostwriters.
It is no surprise that Pope Francis will create a cardinal the archbishop of Bologna, Matteo Zuppi, that will be the first cardinal coming from Sant'Egidio community. Bologna has always been led by cardinal. It is, however, surprising, that the Pope left without a red hat the Patriarchate of Venice and the archdioceses of Turin and Milan.
Pope Francis also gave the red hat to the archbishops of La Habana in Cuba and Kinshasa in Congo: both of them are cardinalatial positions.
In conclusion, Pope Francis also follow tradition in his picks for new red hats. He does that his way. Before, once you got to a position, you could be sure to get the red hat. The people appointed to those positions were the most trusted ones. With Pope Francis, the most trusted ones can also not be selected in critical positions, and yet get a red hat. The person and Pope Francis' trust are more important than anything else.
Third key: Pope Francis never misses to award the countries he visited. This country, he chose Morocco, and archbishop Cristobal Lopez Romero of Rabat will be created a cardinal. Spanish, he distinguished himself for his great work in interreligious dialogue.
The fourth key is the look at the outward bound. Pope Francis will create a cardinal archbishop Ignatius Subaryo Hardjoatmodjo of Jakarta, Indonesia. His predecessor, Julius Riyadi Darmaatmadja is cardinal, but he left the right to vote in a conclave in 2014 when he turned 80. Now, Indonesia will be represented again in a consistory.
Bishop Alvaro Ramazzini Imeri of Huehuetenango, Guatemala, fits the criterion not to award traditional cardinalatial position.
His pick is also a statement. Bishop Ramazzini has always been in the frontline to confront the mining exploitation operated by multinational companies in Guatemala and to advocate an agrarian reform. He can be considered a "social bishop," and Pope Francis likes that.
Pope Francis will also create a cardinal archbishop Jean Claude Hollerich of Luxembourg. Archbishop Hollerich is awarded for his vision. A Jesuit educated in Japan and former vice-rector of Jesuit-run Sofia University of Tokyo, Hollerich is the president of COMECE, the Commission of the European Bishops Conferences that monitors the EU activities.
Last April, in view of the European election, Hollerich penned an article for CiviltàCattolica, the Jesuit-run magazine directed by Fr. Antonio Spadaro. In the article, Hollerich stressed that fears could destabilize democracies and weaken European Union. Pope Francis many times referred to the danger of the "fear" caused by new populism, showing at least a union of intent with the archbishop of Luxemburg.
The fifth key is the break with the past.
Pope Francis' chose three cardinals beyond 80, and so not eligible to vote in a conclave.
Sigitas Tamkevicius, emeritus of Kaunas (Lithuania) will be a cardinal. He accompanied Pope Francis in the KGB prison in Vilnius during the Pope's trip to the Baltic in September 2018.
Pope Francis will also give the red had to bishop Eugenio Dal Corso, emeritus of Benguela, Angola. Before his missionary journey to Africa, Dal Corso was in mission in Argentina during the 1970s while Pope Francis was then a young provincial of the Jesuits.
The most important pick is that of Archbishop Michale Louis Fitzgerald. In 2006, he was president of the Pontifical Council for Interreligious Dialogue. He expected to be created a cardinal, and he was instead sent nuncio to Egypt. According to Sandro Magister, he used to be too open in establishing a dialogue with some Muslim institutions.
With the red hat, Pope Francis underscored that he backs his way of pursuing a dialogue.
It is not the first time Pope Francis does that. The red hat given to Archbishop Rauber in 2015 consistory had the same purpose. In 2010, as nuncio to Belgium, archbishop Rauber backed Archbishop Jozef de Kesel as the successor of Cardinal Danneels at the helm of the archdiocese of Bruxelles. Benedict XVI appointed instead archbishop Joseph André Leonard. Not only Pope Francis made Rauber a cardinal. In 2015, when archbishop Leonard retired, de Kesel was finally appointed archbishop of Bruxelles, and in 2016 he was created a cardinal.
With the next consistory, Pope Francis will shape the college of cardinals his image. The cardinals created by Pope Francis will be the majority in a future conclave.
Pope Francis has created 85 cardinals so far, and 67 of those have the right to vote in a conclave. There are 43 voting cardinals created by Benedict XVI and 18 created by John Paul II.
After the consistory of Oct. 5, the college of cardinals will be composed by 228 cardinals, and 128 are eligible to vote in a conclave. Cardinals Monsengwo Pasinya, Grocholewski, Menichelli e Toppo will turn 80 between Oct. 7 and 15, 2019, and so they will lose the right to vote in a conclave. By mid-October, there will be 125 cardinals eligible to vote in a conclave, five more of the limit of 120 set by Paul VI.
Europe will have 58 cardinals in a conclave, Africa, 27, Asia 27, Latin America 21, North America 12, Central America 9 and Oceania 4.
Five keys to interpreting Pope Francis' sixth consistory
By Andrea Gagliarducci; 1 september 2019
https://www.catholicnewsagency.com
* Catholic News Agency columns are opinion and do not necessarily express the perspective of the agency.