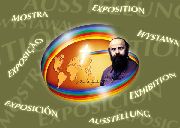 On the occasion of the canonisation of Blessed Daniel Comboni, we have prepared a Display on his life and work. The Display is made up of 15 posters. We thought of it as a useful tool for missionary animation and vocation promotion, for mission presentations to catechumens and in schools, or to be displayed in our houses and communities.
The Display has two basic characteristics:
1° A Guide, in a booklet format, reproduces each poster, presents its theme and has an explanation about it, with one or two texts from the Writings of Comboni that are relevant to it. On the last pages of the Guide there is a short celebration of the Word that may help in concluding, in a prayerful way, the visit to the Display.
2° There are no words printed on the posters, but on each poster there is a white rectangular section on which one may write the title suggested by the Guide.
This can be done, with the assistance of a computer, by writing the title in the language one wishes to use, to print it and place it in the section left blank for this purpose.
In this way the Display can be adapted to any language.
We hope the Display becomes a valid means for missionary animation and for a permanent catechesis on the life and work of Daniel Comboni.