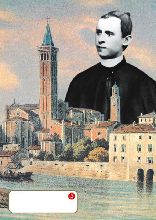 When Daniel Comboni was eleven, he was enrolled at St. Charles' Institute, founded by Don Nicola Mazza, a priest from Verona. In this Institute there was a great missionary spirit and the presence of other young priests, like Don Angelo Vinco, helped the young Daniel in discovering his own missionary call.
In 1847, he was then fifteen, as he read about the lives of the Japanese martyrs, Daniel felt a deep admiration for them and thought that his vocation was to go to evangelise the Far East and had the desire to offer his life as a martyr for the faith.
Later, however, he was then seventeen, as he knelt before Don Mazza, Daniel Comboni promised to consecrate his whole life for the regeneration of Central Africa.
From his Writings:
"It was January 1849 and I was a seventeen year old philosophy student when, kneeling before my venerable superior Don Nicola Mazza, I vowed to consecrate my entire life to the apostolate in Central Africa. I never betrayed that vow, by God's grace, even with the changing of circumstances.
From that moment I endeavoured for nothing but to prepare myself for that holy enterprise."
From a letter to Card. A. Franchi, April 1876. Writing n. 4083.