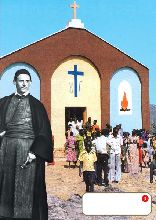 At the end of his four years of theological studies, Daniel Comboni was ordained a priest at Trent on 31 December 1854, at the age of twenty three.
Three years later, he experienced his first crises. Don Mazza, the director of St. Charles' Institute, let him know that he intended to send him to Central Africa with a group of missionaries.Daniel felt that, on the one hand, he was at last going to be true to his priestly and missionary vocation, but, on the other hand, he experienced all the pain that his departure would certainly cause to his elderly parents.
On 10 September 1857 Daniel and five other companions left for Africa. He left behind the days of doubt, crises and fear to look forward to a missionary future full of hope and enthusiasm as he was finally going to Africa.Daniel Comboni knew that his work in Africa could have meant an early death or even martyrdom, as it had happened already and it would happen again to others in the future.
In the poster we can see the photo of Comboni as a young priest and, in the background, the church of Paimol (Uganda) which reminds us of the martyrdom of the two young catechists Jildo and David, killed for their faith in 1918.
From his Writings:
"What worries me is the thought of the displeasure of my parents and of the solitude that they will suffer. I have no fear of either loosing my life or for the hardships of this mission or for anything else; but what concerns my old parents causes my heart to shudder. This was why, in my uncertainty and consternation, I decided to make a Retreat to obtain 6 God's light. If I abandon the idea to consecrate myself to the foreign missions, then for the rest of my life I'll be a martyr of a desire that was born in me fourteen years ago and it grew more and more as I came to realise the greatness of this apostolate. If I embrace the idea of mission, then I'll make two martyrs of my dear parents."
Letter to Don Pietro Grana, 4 July 1857, Verona. Writing n. 6-7.