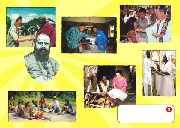 Comboni had placed his hope in the collaboration of all the existing missionary Institutes for the evangelisation of Africa.
When this collaboration was not forthcoming, Comboni, on the advice and request of Cardinal Barnabò, founded his own Institutes for the preparation of missionary personnel for Africa. On 1 June 1867 he founded the Institute for African Missions (now Comboni Missionaries). The Institute was distinctly international in membership because, for Comboni, it was obvious that the missionary work in Africa had to be the result of the efforts of the entire Church.
In the same spirit and realising the need to get women involved in the field of evangelisation, Comboni founded in 1872 the Institute of the 'Pie Madri della Nigrizia' (now Comboni Sisters).
In 1951 the Comboni Secular Missionaries were established and more recently the Comboni Lay Missionaries.
From his Writings:
"For this reason, due to the enormous vastness and importance of my Vicariate, having witnessed the Catholic woman's mission in this century, I am proud to have founded in Verona the new Institute of the 'Pie Madri della Nigrizia', which, among the projects I have started, is of great importance and produces good results."
Letter to Mother Emilia Julien, Rome 30 March 1877, Writing n. 4466.
"In order to give a lasting foundation to the institutions in 16 Egypt and to the missionary activities that will soon start also in Central Africa, in 1867 I opened in Verona, under the patronage of bishop Canossa, a little 'College for the African Missions' to prepare European priests, so that our Institutions and the Mission of Central Africa may in this way be constantly provided with missionaries and co-operators.
Report to the Cologne Society, Cologne 1871, Writing n. 2567.