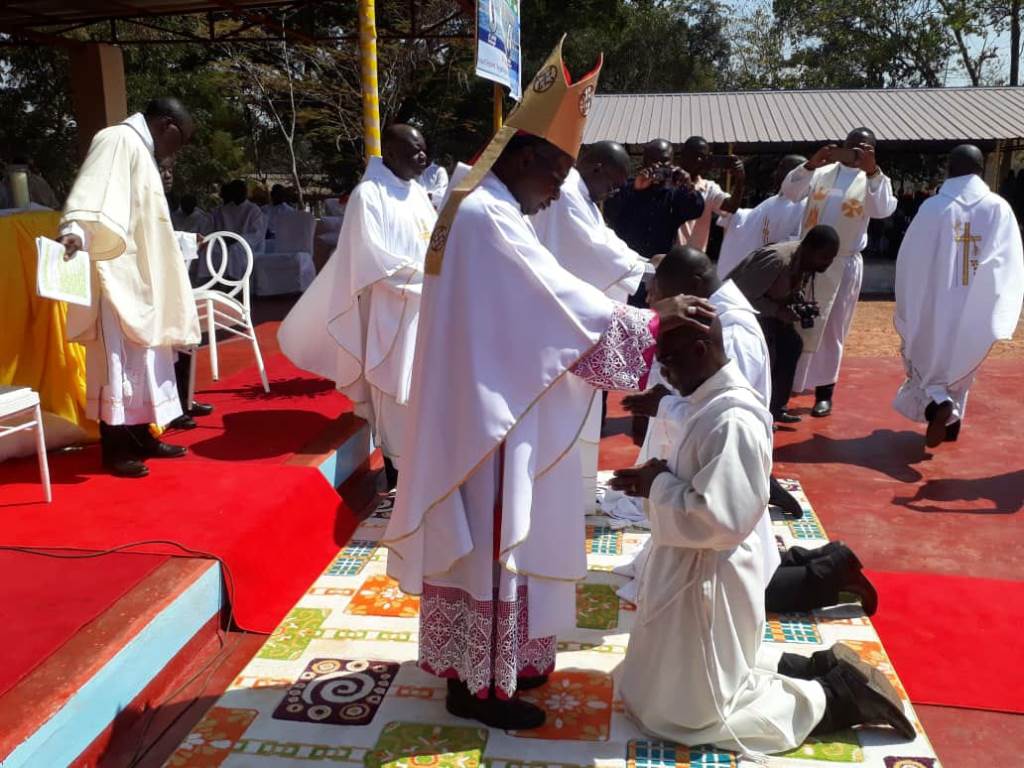 For the preparation, a vast shelter was built, although even this could not contain all the people that attended. Fr. Enrico Colleoni, vice-provincial superior of Malawi/Zambia, spent two full days painting holy pictures on the podium at the request of the Diocese. He made a good job of it.
The place was given a wonderful look with decorations with a red carpet leading to the podium on which the Altar was built.
Almost all the diocesan priests and the missionaries working in the diocese were present. Many Religious sisters, brothers, seminarians and catechists were in attendance; in fact the whole diocese was represented.
The Mass was animated by the Cathedral Choir, accompanied by dancing women, girls and boys to the rhythm of guitars and traditional drums.
In his homily, the Auxiliary Bishop of Chipata Diocese, Dr. Benjamin Phiri, emphasised the importance of priesthood in the Church and the responsibility of the Bishop, priests, religious and laity to look after seminarians and priests. He reiterated that, should a priest fail in his work, the fault is not only his own but also of the Bishop and the whole Christian community. He pleaded with politicians not to drag priests into politics by asking them to animate the Christian community in their favour. He also mentioned that the ordination of a missionary together with diocesan priest, apart from being a sign of unity in the Church of Christ, indicates the missionary nature of the Church.
The Mass was followed by lunch and the entertainment of several youth groups from different parts of the Diocese and a troop of Angoni Traditional dancers.
The following day, Fr. Archangel Banda celebrated his first solemn Mass in his home parish of St. Mattia Mulumba, assisted by the Parish Priest, the diocesan vocations' director and a number of Comboni Missionaries. The parishioners joyfully welcomed their son and thanked God for his vocation. They showered him with gifts and asked him to represent them honourably in the land of his missionary work.
At the end of the banquet, the father of Fr. Archangel, who is a catechist, in conclusion to his speech said: "Our family is poor, like all the families of catechists; we have gone through many challenges but what happened yesterday and today is a consolation which will help us to face all future challenges. This is indeed what we have been waiting for."
Fr. Edward Kanyike