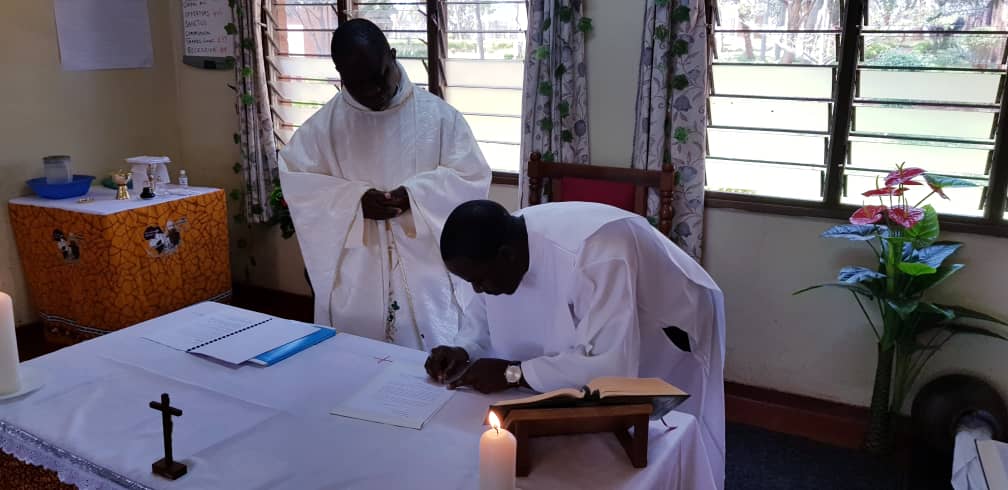 At a certain point one thing had become very clear to everyone: the Corona COVID-19 virus would not allow the usual gatherings customary across the country. Restrictions were issued by both the government and the Church and had to be obeyed.
For this reason, the confreres of the Shire Region, together with the provincial, Fr. Michael Nyowani Mumba from Lilongwe and one confrere from Zambia, came together in the community of Lunzu on Friday, August 14, 2020, to celebrate together the Perpetual Profession of the Sch. Teddy Kalimbuku.
Despite the restrictions, a colorful liturgy was performed which included an inspiring homily by the Provincial concerning our vocation and on how we should never give up, always remaining rooted in Jesus Christ himself.
After this brotherly liturgical get together, a common lunch in the community of Lunzu afforded a delightful meal, and was followed by the cutting of the cake and ice cream. The interaction before, during and after the event strengthened the brotherly feeling of the community.
Today, August 15, the Solemnity of the Assumption of Our Lady into Heaven, Sch. Teddy Kalimbuku was ordained a deacon in the mission parish of Lirangwe, where he had done his pastoral work, by Archbishop Thomas Mzuza of Blantyre-Limbe, in the presence of the Provincial Fr. Michael Mumba, confreres and a restricted number of people (about 100).
Ad Multos Annos, Abambo A Teddy!
[Fr. Michael Martin Zeitz]