A Message of Hope for Christmas
Christmas and the community of the faithful
by Fr. Chris Aleti, mccj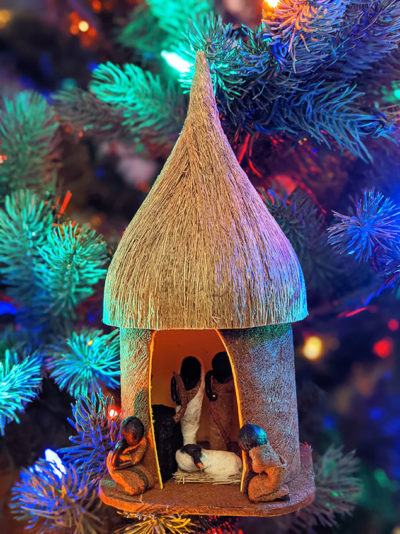 The unique characteristic of Christmas is that God manifests Himself in and through the person of Jesus Christ and invites the whole human family to come together in adoration and thanksgiving. Christmas is always a time of joy and we are truly happy on this special day no matter what may be happening in our individual lives. It is a moment to feel that sense of a family, not only the biological but also the family of the faithful around the globe.
My personal experience of Christmas in the village
I would like to share my own journey of Christmas experience. I am Fr. Chris Aleti, a Comboni missionary, born on Christmas day – December 25th, 1967. You can imagine the trouble I caused to my mother on that day when others were going to the Church for liturgical celebrations and later for concerts.
As a youth about 9 – 10 years old, I remember Christmas for us was a moment to put on new clothes, sandals and having special meals. In the course of the year, we rarely ate meat, but Christmas was a special moment for all the families to celebrate with good and delicious meals. We also looked for manual jobs to get money to buy our own clothes and sandals. All that we needed for Christmas was achieved by the end of November. Then we waited with a sense of joy to show off our Christmas achievements during the Mass. In the Mass, all the young people were watching who had new clothes and sandals. Pairs of shoes were quite expensive for us to afford. Little did we know that Christmas was bringing children together to share their hopes and dreams.
We had families that formed groups to prepare for Christmas as a team. They made contributions to join the groups and worked in people's gardens to raise more money to buy some animals like goats or bulls. On the eve of Christmas, they slaughtered all the animals and divided the meat among the members to celebrate Christmas day. These were permanent groups that worked throughout the year. Then in the first week of January, all the groups had their evaluations of how the Christmas events went and made proposals for the forthcoming Christmas. It was both a social and spiritual group where education of children and family values were fostered.
The Parish provided the spiritual programs for confessions during the Advent season while the youth and children prepared concerts on the life of the Child Jesus in the parish. This was an important event on Christmas day. In the afternoon on Christmas day, after people had had their meals in their families, they all came back to the parish center to watch the concerts and listen to the Christmas carols sung by the youth. What a moment that was to have parents, children and friends enjoying and laughing together.
My Christmas in the mission
My first missionary assignment was to Kotido Diocese in northeastern Uganda among Karamajongs. As a missionary priest working in a new culture and language, the experience was different for me. We had 19 outstations which would be considered as individual parishes here in the United States, but we were only two priests. Christmas was one of the busiest moments in my missionary life. Beginning with Advent, we went to each of these outstations administering the sacrament of reconciliation where many people came, and we spent the whole day in each of these places. It was intensive and tiring, but the joy of the people who waited in long lines for the sacrament brought a lot of joy in my heart too. It was their longing to celebrate Christmas with a renewed heart. On Christmas day, we could only afford to celebrate 3 Masses each in different places and we would designate 6 outstations where the Masses would be celebrated. People walked for miles to the nearest outstations where the priests would come to celebrate Mass.
My Christmas in the the United States
I came to the United States in November 2014. I was so impressed with the way the people decorated their homes and houses with Christmas lights and objects. The nights are the best moments during the Advent season here in the United States. It directs and drives our minds towards the events of the Incarnation. The decorations are proclamations in themselves of the Child Jesus. My first Christmas Mass in the United States was in Joliet Diocese where we celebrated 3 Masses at the same time in the same parish (in the main Church, gym and the hall) and they were all full of people. This shows our faith in God.
Christmas in COVID times
We all know that Christmas has an undeniable power to bring and unite all the faithful together. People travel long distances in order to be with their dear ones on this special day of our Christian faith. It is nice and fine to celebrate our union with God as a family, but the Christmas of 2020 is a special one that has been affected by the Covid-19 pandemic. We are unable to gather together for big celebrations. However, there are many ways in which we can still celebrate our sense of belonging to each other. We can send gifts, Christmas cards and reach each other through the phones and social media. The birth of Jesus brings new life, joy, hope and love. We do not want to be a source of our brothers', sisters', and elders' suffering by our presence due to Covid-19. A true love for each other entails sacrifice where we are called to withhold our personal joy and desire to be physically present with each other. There will always be a time when we shall come together again to celebrate as before. Even during these unfortunate circumstances that we are going through this year, Christmas remains a God-sent gift and moment of celebrating our connectedness and bonding both locally and universally.
Happy Christmas and may the grace of the incarnation guide you through.
Fr. Chris Aleti, mccj
Comboni Missionaries