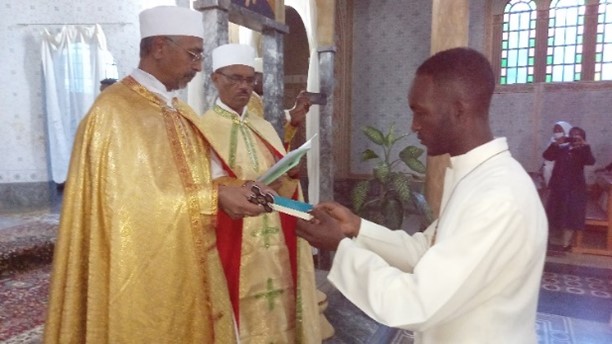 Mulu was presented by his parents. His brothers and sisters, the confreres, and the Comboni missionary sisters were present in the celebration. The celebration was joyful and Fr. Habtu expressed his genuine appreciation and thanked the parents for the support and encouragement in the confrere's vocational journey. Already the parents had offered to Church other two of their children, a son and a daughter in consecrated life in different congregations.
On Sunday 31 July, Mulu was ordained deacon by Mons. Menghesteab Tesfmariam Archbishop of Asmara in the parish of Kidane Mihret Sembel where our scholasticate is situated. In his homily the Archbishop underlined the importance of Diaconia in the life of the Church and he encouraged the newly ordained to fully exercise this ministry. He also expressed his gratitude to his family and those who accompanied him in formation.
During the lunch time the scholastics and the postulants entertained the people with a short play that articulated the role of family of Mulu in his vocation.