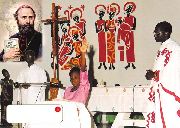 Avery important date for Comboni was 15 September 1854. During the triduum of preparation for the beatification of Margaret Mary Alacoque, while he was praying next to St. Peter's Tomb in Rome, Comboni had an inspiration about a 'Plan for the Regeneration of Africa'. He wrote this plan down in three days and presented it to the Prefect of Propaganda Fide, Cardinal Alessandro Barnabò. Encouraged by the cardinal himself, Comboni set off on a journey of missionary animation throughout Europe. As he passed through Turin, he published the first edition of his Plan and committed himself to make it known all over Europe.
The main points expressed in the Plan: 1) The evangelisation of Africa is to be accomplished first of all by the Africans themselves. 2) A call to the entire Church to promote the evangelisation of Africa by engaging the cooperation of all the missionary forces: men and women, religious and lay people. 3) To have human promotion and evangelisation proceed hand in hand. 4) All missionary activities are to be directed towards establishing steady Christian communities.
From his Writings:
"On 18 September 1864 I was in Rome and, in St. Peter's Basilica, while taking part in the beatification of St. Margaret Mary Alacoque, like a lightening came to me the thought of presenting a new Plan for the regeneration of the poor African people, whose single points came to me as an inspiration from above. Later this plan received a favourable response from His Holiness Pope Pius IX who sent it to the Congregation of Propaganda Fide. It was translated into several languages 10 and published in several editions. By this Plan, my hope was to give greater vitality and content to our missionary work among the poor people of Central Africa. Consequently, I resolved to establish in Europe, in a suitable place, two Institutes, one for men and one women, with the aim to form personnel capable of carrying on the work in the missions of Central Africa."
To the Society of Cologne, 1877, Writing n. 4799.