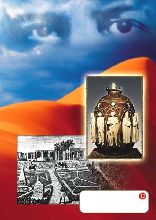 On 10 October 1881 Daniel Comboni, the apostle of Africa, died in Khartoum at the age of fifty. A small group of missionary priests and Sisters were with him in his last hours, while he was feebly repeating 'My Jesus have mercy'. Before entering his agony Comboni had asked a young priest, Johannes Dichtl, to promise that he would remain faithful to the mission. Meanwhile Fr. Arthur Bouchard, holding his hand, comforted and encouraged him during the last moments of his life: 'Monsignor, the supreme moment has come!' At 10 p.m.
the news spread throughout Khartoum: 'The Bishop is dead'.
On this poster we can see a typical African desert and, under the piercing glance of Daniel Comboni, a drawing made at that time of the mission cemetery in Khartoum where Comboni was buried. A few months later the tomb was desecrated and destroyed. Today some of Comboni's remains have been taken to the Mother House of the Comboni Missionaries in Verona and laid in the urn we see in the poster.
From his Writings:
"We are all willing, your Eminence, to die even as martyrs for our faith, but we want to die in a sensible way, a very sensible way indeed, namely by working wisely for the salvation of the most miserable souls on earth and to risk for them the greatest dangers to our life, but with the prudence, discretion and magnanimity that befit the true apostles and martyrs of Christ.
Letter to the Card. A. Barnabò. Rome 1870, Writing n. 2225.