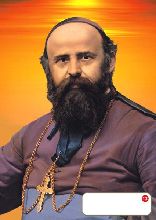 I n the language of the liturgy the day of the death of a saint is called 'dies natalis' (the day of the birth into heaven). On 17 March 1996 Pope John Paul II proclaimed Daniel Comboni 'blessed' and from the day of his canonisation, 5 October 2003, every tenth of October we celebrate St. Daniel Comboni to honour him as the Apostle of Africa. The holiness of Comboni has been testified by many missionary priests, Sisters and Brothers, has been imitated by many men and women who strive to live by the kingdom's evangelical values, and it has been proclaimed by the universal Church as an example of missionary holiness. Comboni was asking his priests and Sisters to be 'holy and capable': holy, that is to have the same feelings of Christ; capable, that is well prepared to face the challenges of a world that longs for justice and peace.
From his Writings:
"Let everything happen as God wants. God never abandons the one who trusts in Him. He is the defender of innocence and the avenger of justice. I am happy in the cross, which, if willingly accepted for the love of God, will certainly bring about victory and eternal life.
Letter to Fr. Sembianti, Khartoum, 4 October 1881, Writing n. 7246.
"With regard to religious formation, carry on as you have done up to now and in the way you intend to, because I know very well your feelings and your mind: holy and capable.
The one without the other has no value for an apostle. A missionary priest or a missionary Sister cannot go to heaven alone. Alone will go to hell. The missionaries must go to heaven followed by the souls they have helped to save.
Therefore, first of all 'saints', that is wholly averse to sin and humble. This, though, is not enough: there is the need of charity, which alone makes them 'capable'."
Letter to Fr. Sembianti, El Obeid, 20 April 1881, Writing n. 6655.