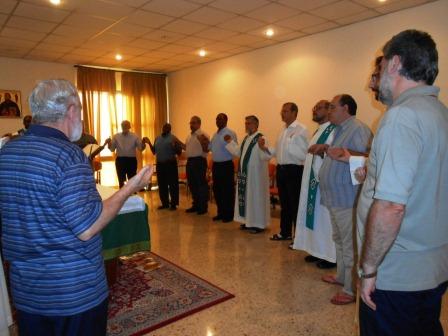 Group of Africa.
The entire day of September 7 was given to the reports of the sub-continents of English speaking Africa and Mozambique, French speaking Africa and America-Asia and Europe. The report, even though it was intended to be complete, had by necessity to be summary in form because many of the data have already been presented during the Chapter and during the various meetings of provincials.
In every report there has been an effort to present the reality of the world, the Church and the Institute based on a serious analysis of reality. In these reports there has been an effort to interpret the whole starting from our human frailty, the limitations proper of our real situation as an Institute (lights and shadows) and the activity of God in our Comboni history.
Some situations of suffering of the people where we are present have impacted all the participants, especially in Eritrea where people and missionaries suffer under inhuman situations due to the lack of everything, including basic commodities and, above all, due to the lack of freedom.
An interesting debate developed brought about by an initiative presented by the delegation of Asia: to have a presence in Vietnam for vocation purposes. A process of discernment has begun so that the decision (positive or negative) may be in line with our charism and our real capabilities.
Even though the reports are among the most difficult exercises in this type of meeting, they are a providential occasion in order to create a spirit of communion which for the greatest part depends from listening to the others and from the knowledge of our history.
(Please find attached the Report of Europe in Spanish).

Fr. Llamazares G. Miguel Angel, delegate from Asia.