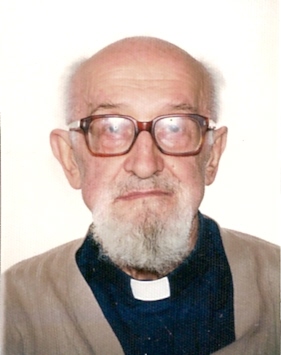 Date of birth :
14/02/1926
Temporary Vows :
09/09/1948
Perpetual Vows :
22/09/1950
Date of ordination :
19/05/1951
Date of death :
20/03/2003
Fr. Antonio Dutto was born in Boves, in the municipality of Cuneo, on 14 February 1926. He was ordained a priest in 1951 and in December 1952 he went to London to prepare for his assignment in Gulu, North Uganda. From 1952 to 1956 he taught at Lacor seminary. From there he moved on to pastoral assignments in the following missions: Anaka (1957-1958), Aduku (1958-1965), Opit (1965-1968), Padibe (1968-1975), Pajule (1975-1976), Namukora (1976-1978), Kalongo for Namukora (1978-1982). Then Awach (1982-1984), Kitgum (1984-1986), Parombo (1987-1990), Kalongo (1990-1994).
From this list of frequent changes, even from one diocese to another, he did not appear to be an easy character to live with. He was strong willed, outspoken, easily irritated and often critical. It shows, for instance, in a letter he wrote to the provincial of Uganda in 1981: "I am dead tired, everything upsets me and makes me nervous, and I do not feel like being appointed to a difficult assignment and shoulder the responsibility. Even more, the question of the larger community I just can't see it. Don't force me to go crazy. At least for a while I need peace and quiet, otherwise I will have to go back to Italy. I say this because in conscience I need a bit of respite from worries." So, even Fr. Antonio certainly had his limitations, but he also had a great passion for the missions and for Uganda in particular.
In 1994 he was the victim of an ambush by the Kony rebels. On that occasion he was wounded in the leg, which had eventually to be amputated. In Verona, where he was a patient, he was always trying to do therapy in order to walk again. Often, especially in his last few years, he was in a wheelchair, but still kept alive the hope of returning to the missions. In the letters he was writing to the provincial of Uganda from Verona one notices, like a constant refrain, his great desire to return to Uganda.
He would not resign himself to being assigned to the Italian province. In 1994, after having recovered a bit from the amputation, he wrote: "I always think of Uganda. I keep seeing the places and the people and remember everyone in my prayers." In 1995 he wrote: "They have asked me to accept to be transferred to the Italian province. I prefer to wait and see how I am doing. I hope that Bishop Comboni will have a present for me on the occasion of his beatification." He would read with great joy news from Uganda: "Thanks for Dialogo and the Voice of the Council. They are like a breath of air from Uganda and do me good. I chat with passing confreres and I am always waiting for news bits from Uganda. When they arrive, I am thrilled." In 1996 he wrote: "Knowing that there is hope for me to return to Uganda, has given me the courage and good will to try harder to walk." Finally, in 1997, he wrote to the provincial of Uganda explaining how he was beginning to walk fairly well and therefore he was hoping to return there. "I walk fairly well, for the poor old man that I am. I'm beginning to think about returning to Uganda." A year later he insisted: "I hope to return to Uganda. What do you think? Even though you are about to finish your term of office." To his successor, who visited him in Verona in 2000, he said: "I want you to know me, so that you may accept me back in Uganda."
Fr. Antonio left us on 20 March 2003 after a painful illness that was his purgatory. His passion for the missions, and for Uganda in particular, has been like a fire that has purified his limitations. This passion of his for the missions is a great example for all.