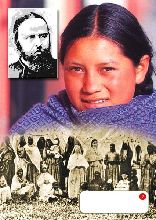 I n an environment when the woman's role was limited to that of a spouse and a mother, Comboni had the intuition of the importance of women and of their feminine qualities in the realisation of his Plan. Along with missionary men, he brought to Africa also missionary Sisters. At the beginning he obtained the cooperation of several religious Institutes, but later he felt the need to start his own missionary family. He knew that only a woman could make the woman free.
In the photo of the poster we can see the first Comboni Sisters in 1891 surrounded by a group of women, a sign of the novelty of the feminine presence in the mission field.
From his Writings:
"As for the Sisters, next Monday, 9 June, the girls school will open. Thanks to God for his gift to me of religious women of excellent character and ability and also of some good African educators. I hope to have soon a flourishing Catholic school in this capital city, which has never seen a Sister nor the extraordinary power of charity shown by these women of the Gospel. It is also due to these education opportunities that the mission provides if last month, through hard work, we were able to prepare a group for confirmation. It was since 1860 that this sacrament wasn't administered in Central Africa."
Letter to Cardinal A. Barnabò, Khartoum June 1873, Writing n. 3192.