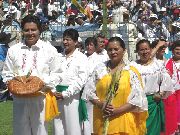 Of past events remains the bitter memory of the differences, doubts, insinuations and, in particular, the reality of the war in Georgia, Iran and Afghanistan, the uprooting of immigrants and emigrants, of expatriates and refugee, the controversies in politics and religion: instead of finding solutions to the deformations of daily life, always present and in ambush in our world, it seems that we take decisions which lead us to dead-end lanes.
It is in this context, gloomy and in need of a ray of hope, that mission carries on; it is to this humanity more and more in need of peace and brotherhood that the Olympic Games wanted to say a word, which unfortunately has had little effect.
Two more great events appear on the horizon and remind us of our responsibilities so that the two messages of the CAM – the ecclesial event – and of the Olympic Games – the human event –may receive answers which go beyond a performance and folklore. These events are the Synod of the Bishops on the Word of God next October and the XVII General Chapter in September 2009. Without forgetting that soon after our Chapter there will be the 2nd Synod of the Bishops for Africa.
The website www.comboni.org invites Comboni Missionaries and friends to interact in a special way during the next months to make of these events an occasion for research and life experience.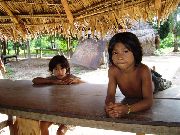 On 6 September next, exactly one year before the General Chapter, the Forum Comboniano, which was never closed down but fallen into a state of lethargy, will become again a space for sharing, dialogue and, why not, discussion and protest.
Those who are already registered, all they have to do is to enter their user name and password just by sending a greeting message; the others will have to follow the instructions provided.
On 10 October, Comboni's anniversary, the password for the Reserved Area will be changed in order to guarantee privacy to the interventions. Anyone using the website may, however, take part by sending their messages to info@comboni.org
The main topic will be the General Chapter, but interactive space will also be given to the Synod on the Word, the opportunity of discussing the website itself and, in "Spazio Libero" (Free Space), the possibility of any intervention.


Evaluating the Forum Ratio Missionis we may feel a bit discouraged. It has been an experiment that brought its fruits, it was interrupted perhaps because many were expecting answers which never came. It is important , however, that each intervention indicates the reaction it expects: whether from the moderator or from any other enlisted member.
The Provincials will soon receive a letter with the new password. Until 6 September, then, there is time to reactivate one's membership or do it for the first time, so that one can make use of the Forum. It is worth recalling what Fr. Teresino wrote in his Letter of Convocation for the Chapter: "The General Chapter will be grace if it is an event of the Spirit. We have, therefore, to leave all the space to the Spirit, so that He may enlighten, guide and speak to us. May the prayer in preparation to the Chapter open the gates to that same Spirit of God which inspired, enlightened and strengthened the mission of Daniel Comboni. Filled with the Holy Spirit (Acts 2:4), like the apostles at Pentecost, we will always know how to put God and the mission in the first place."

Comboni Press