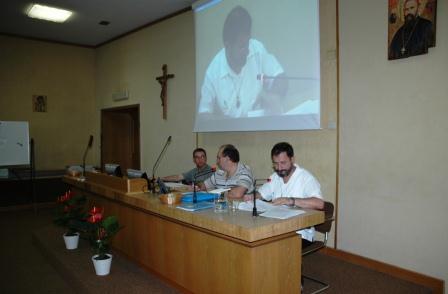 The Intercapitular Assembly of the Comboni Missionaries – taking place on September 2-22 – gives three days (September 4-6) to the reading of the reports of the GC, the secretary generals and the people in charge of certain offices, and of the circumscriptions by continents where we are present. Yesterday the following presented their reports: the superior general, in the name of the General Council, the secretary generals of Evangelization, Mission Promotion, the coordinator of JPIC, the CLM and the Website of the Institute.
The report present a critical reflection above all on what has been done, starting from the decisions of the General Chapter of 2009, and show also all the initiatives that are taking place or that are being planned in cooperation with the local churches, other institutions and the entire Comboni Family.
Exactly in this sense that we are dealing with a missionary family, the superior general of the Comboni Missionary Sisters (CMS) Sr. Luzia Premoli, has written a letter to the GC of the Comboni Missionaries, showing their nearness in prayer to all the Comboni Missionaries gathered in the Intercapitular Assembly. "On the occasion of the opening of your Intercapitular Assembly, due to take place in Rome on September 2-22 2012, we wish to send you our best wishes and be present with our prayers. We know that this step, half way through your mandate is an important time, which, for certain, will help you carry on with wisdom and courage your ministry in the service of mission. We call upon you and upon all the participants the light of the Holy Spirit, so that you may live deeply this moment of reflection and of evaluation over what was proposed by your 17th General Chapter. Together with you we entrust the good development of the Intercapitular Assembly to the protection of Mary, Mother of the Sacred Heart of Jesus, and of St. Daniel Comboni, our common Father and Founder," thus read the message of the CMS.
(As attachments the Reports to the Intercapitular Assembly: of the GC in Italian and English; the secretary of evangelization in Italian and English; the secretary general of MP in Italian; the coordinator of JPIC, the CLM and the Website in Italian and English).