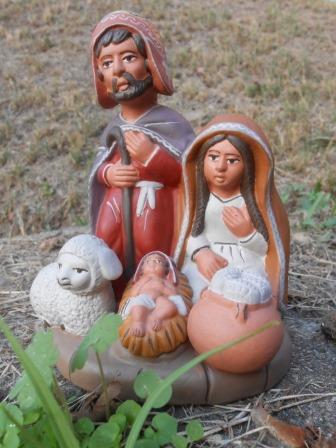 The joy of Christmas
"Behold: a virgin will conceive and give birth to a son
whom she will call Emmanuel"
(Is 7:14)
Dear Confreres,
This is the time of preparation for the feast of Christmas. We want to send you our very best wishes and assure you of our prayers and affection.
During this time, we are invited to thank God for the gift of his presence amongst us and for having granted us the opportunity of continuing our service to the mission as witnesses of his love.
As we contemplate the icon of the stable of Bethlehem, where we recognise God made man, we spontaneously give thanks to the Lord because he has been good to us by showing us his face. It is the same face we have seen and recognised in many brothers and sisters whom we have met in our missions, in the Christian communities and in each of the people whom the Lord had us meet this year now at its close.
Once again, the Lord makes himself little and speaks to us in a special way through his Word and through the words of our humanity which is still waiting for him and seeking him as the God who became one of us, to meet us there where we find ourselves with all of our history, our dreams and the desire to work to build up a humanity made according to his heart.
The child whom we contemplate in the manger is the God who shares our worries and our sorrows, our weaknesses and our limitations, the God who makes us experience that joy which only he can give.
Consequently, we feel we are invited to live these days in the spirit of the feast that fills our hearts, when we discover we are the object of God's love, his chosen ones in a world where true happiness is difficult to find.
This joy, however, does not allow us to forget our many brothers and sisters who are suffering greatly today, in silence and in great hope, the hope that, even upon the most abandoned, there will shine the light of Christ who come to give light to those in darkness and free them from all that stands in the way of love.
As we prepare to live the mystery of God becoming one of us, we hear and see the sorrowful news from the republic of Central Africa where the violence continues to be transformed into sorrowful cries to heaven for the gift of peace, mercy and compassion.
We, too, want to join in this plea saying: Lord, come quickly, show yourself and let yourself be known as the bringer of peace, of reconciliation, of pardon and of the life that makes us brothers and sisters.
The joy of Christmas does not allow us to forget our brothers and sisters who live out their missionary service in Sudan, Congo, Eritrea and other parts of Africa as well as in Europe, America and Asia where to be a missionary today is not easy and where the knowledge of the Cross makes us implore the Lord to be merciful and to open up new areas where his presence may be recognised and accepted.
Come, Lord Jesus, and pitch your tent among us.
With these few lines, we wish to invite you to live this feast of Christmas as a really missionary feast, throwing wide open the doors of our hearts to allow ourselves to be filled with the strength of Christ who makes us look to the future with confidence and continue our missionary service with humility, accepting and recognising how urgently we need to adopt an attitude of real conversion.
We wish you a Christmas filled with enthusiasm for the mission, the fruit of thankfulness for the presence of God in our midst. We are in the hands of God and, from the bottom of our hearts, we wish to thank him for making us his dwelling-place and to tell the world how much he has loved us by calling us to be his missionaries in the many grottos of our world.
Happy Christmas! Brotherly greetings and prayers.
Fr. Enrique Sánchez G.
Fr. Alberto Pelucchi
Fr. Antonio Villarino
Fr. Tesfaye Tadesse
Bro. Daniele Giusti